Children's Choirs
MidWeek Choir Programs
6:15-7:30pm, September 13-November 22, 2017
On Wednesday nights, your child will participate in a creative, fun-filled hour of music, movement, and story time! Jr. cherub, Sr. cherub, and first grade choirs will sing for the Hanging of the Green service. All choirs will sing for Sunday night worship in the spring. Children may be dropped off no earlier than 6:15pm and must be picked up by 7:30pm. Choirs for 2nd-6th grade will continue on Sunday evenings beginning Sunday, September 10.
Register your child for choir online or email the Music Department with questions.
Transition Choir - D107
For kids who are 3 (must be 3 years old by April 30, 2017)
Jr. Cherub Choir - D102
For kids who are 4 or currently enrolled in a junior kindergarten program
Sr. Cherub Choir - D101
For kids currently enrolled in a Kindergarten program
1st Grade Choir - D100
For first graders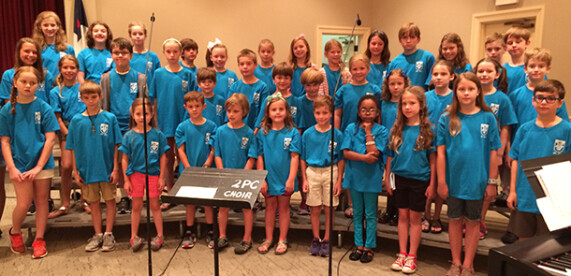 Sunday Evening Choirs
4:30-6:00pm, September 10-December 3, 2017
Children in grades 2-6 are invited to join us for choir in C-310 from 4:30 - 5:30 and dinner, provided by parent volunteers, from 5:30-6:00 in C-100. This exciting program provides many artistic experiences, from singing to drama. Sunday night choirs sing in worship throughout the choir year and perform a musical in the spring.
Music Makers - D103
For second and third graders
Spirit and Song - D109
For fourth through sixth graders