Hymnal
Make a Joyful Noise in 2018
For the last few years, our music department has been working to select our church's most loved hymns to include in the next generation of hymnals for Second. That work is now complete and soon, with your help, we'll be ready to print.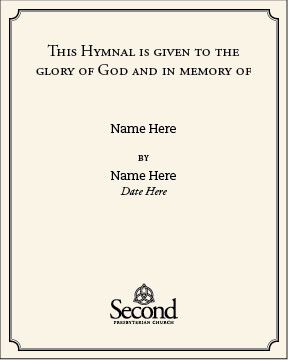 Early in 2018, we plan to place an order for 2000 hymnals for our Sanctuary and Chapel. The order for the new hymnals will be placed as soon as we have sold all the memorial nameplates to cover the cost of the hymnals, which is where you come in!

Gifts can be designated to honor or memorialize a loved one. Hymnals can be memorialized for $25, which includes an attractive bookplate that will be placed inside the front cover of each new hymnal.