Second in the City
Beginning October 2017 and throughout the year, we will feature one of our ministry partners based on an interview with a church member who is actively involved with the ministry. This month's feature is World Relief Memphis.
When refugees first arrive in the United States, they're immediately faced with a number of big adjustments. During this time of transition, World Relief Memphis serves as a source of support for newly resettled refugees, helping with everything from picking them up from the airport, to navigating food stamps, to moving them into an apartment.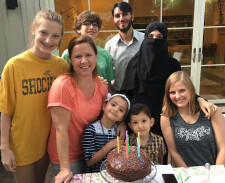 After learning about the mission of World Relief, 2PC members Thomas and Natalie Quinlen began volunteering with the ministry about a year ago. They were paired with the Almasalma family—parents with two young children—who had moved from Syria and had spent 2.5 years in Jordan before being approved to move to Memphis by the United Nations.
"They were forced to leave the only home they ever knew and arrived in Memphis speaking not a word of English," says Natalie. "We will never forget the day we met them. The confusion and fear was palpable in that apartment."


Over the last year, the Quinlens have become close friends with the Almasalmas.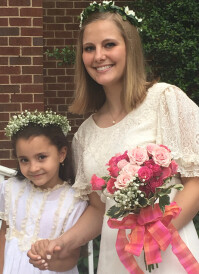 "There are so many wonderful memories just from this last year, but some of the highlights would be when their daughter, Renad, was our oldest daughter's flower girl at St. Mary's graduation; when Walaa, the mom, got her driver's license; when we took Mohammad, the dad, fishing; and helping them move out of their first apartment into a much nicer apartment in Lakeland," says Natalie. "We have been blessed beyond measure since meeting the Almasalmas, and it has been our great delight to be used by the Lord in their lives. May God have mercy and open their eyes to see Jesus!"
There are many opportunities to make connections with refugees through World Relief Memphis. To learn how, email . Read more about the ministry.
---
Second in the City Event
On November 16, all are invited to the World Relief training session at 6:30pm in C-310.
If you have any questions, please email Amy Williams.