World Missions Conference
World Missions Conference 2017
February 24-26
Our World Missions Conference is a time to honor and get to know our missionaries who are working to expand God's Kingdom across the world. It is also a time in which to learn from our guest speakers, who are brought in from around the world to share with us their experiences.
This year we will welcome guest speaker Giotis Kantartzis, the pastor of the First Evangelical Church in Athens, Greece.
Conference Schedule
Thursday, February 23 · Pre-Conference Events

11:30am

6:30pm

Missions Luncheon: Jennifer McIntyre and Visiting Missionaries
Fellowship Hall, Tickets: $12 each
Register for the luncheon/dinner
Register for luncheon nursery

Missions Dinner: Jennifer McIntyre
Yvonne Hardin's Home (2239 Green Shadows Cove), Tickets: $10 each
For further details or tickets contact the Women in Ministry Office at 531-6159

Friday, February 24
5:30pm
Missionary Reception
Fellowship Hallway
6:15pm

KidMission: Kenya
Pizza Supper – C Basement $3 each for Pizza
Register for KidMission

6:30pm

Keynote Banquet: Giotis Kantartzis
Fellowship Hall – $10 each
Register for the keynote banquet
Register for Friday night nursery


9:00pm

Young Adult After Party


Saturday, February 25
8:00am

Missions Pancake Breakfast
Fellowship Hall, Tickets $3 Adults & $1 Children (up to 6th grade)
Register for the pancake breakfast

8:45am

KidMission: Kenya
C Basement (Reservation Required)
Register for nursery

9:00am

Teaching Session
Fellowship Hall

10:00am

Panel Discussion
Fellowship Hall

6:00pm

Cottage Meetings Hosted by Adult CC's in Various Homes

Sunday, February 26
8:15am

Worship Service: Giotis Kantartzis – Sanctuary

9:45am

Guest Missionaries in Individual CC's

11:00am

Worship Service: Giotis Kantartzis– Sanctuary

6:00pm

Worship Service: George Tolias – Sanctuary

*Nursery available on Thursday for the Missions Luncheon, Friday evening, and Saturday morning. Reservations needed.
---
Conference Speakers
Giotis Kantartzis
Giotis is pastor of First Greek Evangelical Church in Athens, Greece. He has a vision for church planting throughout the city and is one of Second's strategic partners. His church supports a work among an area of Athens that has over 20 different immigrant groups living in a very small area. He has begun an "Incubator" program to train young people for church planting and a mercy ministry for refugees coming to Greece.
Jennifer McIntyre
Jennifer is a missionary with OMF Taiwan and EPC World Outreach. She and her husband, Thomas, serve as church planters in Zhongpu, an area that is less than 0.3% Christian. There, they reach out to young families through Bible studies and weekly worship at their Gospel Center. Jennifer is also a gifted writer. Her first book, "Dead Women Walking" was published in 2008 and was subsequently condensed as "Unbound" in 2012. Her new book, "Ping Ping and the Very Hairy, Slightly Scary Man" is a children's book based on the true stories of several children living in Zhongpu. The McIntyres have two children, Ashlee and Tyler.
---
2017 World Missions Annual Report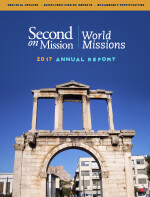 We live in a critical time for the body of Christ to articulate carefully how we engage our world and serve people from other nations, both at home and abroad. Our partners have been faithfully engaged in living out the Gospel in their countries in amazing and authentic ways. To learn more about our World Missions efforts at Second, view our 2017 Annual Report.