Pastoral Search Update
On Sunday, July 23, our congregation voted 901 to 0 in favor of calling Dr. George Robertson as the 17th Senior Pastor of Second Presbyterian Church! His first sermon in our pulpit will be on September 10.
---
Dr. George W. Robertson, official bio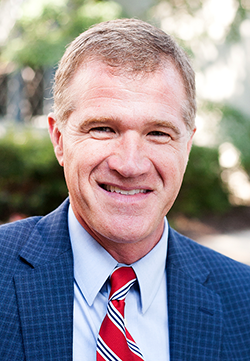 Dr. George W. Robertson is the Senior Pastor of First Presbyterian Church of Augusta, Georgia, where he has served since July, 2005. He earned his baccalaureate degree from Covenant College in Lookout Mountain, Georgia, his Master in Divinity and Master in Theology degrees from Covenant Theological Seminary in St. Louis, Missouri, and his Doctor of Philosophy degree in Historical and Theological Studies from Westminster Theological Seminary in Philadelphia, Pennsylvania.
Dr. Robertson formerly served as pastor of Covenant Presbyterian Church in St. Louis and as lecturer/adjunct professor of Practical Theology at Covenant Theological Seminary. He is a former Trustee Advisor and Vice-Chairman of the Board of Trustees at Covenant College. He currently serves as a council member for the Gospel Coalition. He was elected as Moderator for the 2016 General Assembly of the Presbyterian Church in America.
Dr. Robertson is the author of several Bible studies including Deuteronomy—More Grace, More Love: Living in Covenant with God; Responding to Grace (James); Dearly Beloved (1, 2, 3, John); The Gospel According to the Ten Commandments; Christ, the Conquering Lamb (Luke); and Acts: The Church the Trinity Built, all published by the PCA Committee on Discipleship Ministries. He has also written Am I Called and What Is Evangelism? for P&R Publishers. He wrote the study notes for Psalms 1-100 for the Gospel Transformation Bible, published by Crossway in October 2013.


---
Other Resources