Recordings
Christ Hath a Garden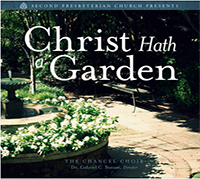 The Chancel Choir of Second Presbyterian Church celebrates the rich blessings God has bestowed on us by presenting some of our favorite anthems from our choral repertoire in 2012 and 2013.
Order Christ Hath a Garden online
1. Let All the World in Every Corner Sing
2. Come, Ye Sinners
3. God Himself is With Us
4. Morning Has Broken
5. My Song is Love Unknown
6. Christ Hath a Garden
7. Out of the Depths
8. What a Friend We Have in Jesus
9. How Much I Owe
10. Come Ye, Disconsolate
11. O Zion, Haste
12. I Know That My Redeemer Lives
13. O Jesus, I Have Promised
14. King of Glory, King of Peace
15. My God is an Awesome God
16. Have You Not Known
17. Ev'ry Time I Feel the Spirit
18. How Great Thou Art
American Hymns, Spirituals, and Folk Songs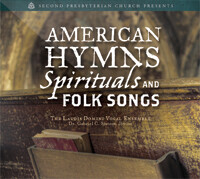 This CD is as much a montage of the spiritual state of a young country as it is a tribute to the hymns, spirituals, and folk songs that represent the deep spirituality represented. Perhaps the hallmark of the American spiritual song is the longing and desire to cross over into the promised land. Many of the great spirituals recount Old Testament stories of how God delivered His people. Download the cd booklet.
Order American Hymns, Spirituals, and Folk Songs online.
1. Hark, I Hear the Harps Eternal
2. There Is a Balm in Gilead
3. God Is Seen
4. I Opened My Mouth
5. Softly and Tenderly
6. Great Is Thy Faithfulness
7. What Wondrous Love
8. We are Travelers on a Journey
9. Fix Me, Jesus
10. Daniel, Servant of the Lord
11. Soon-ah Will Be Done
12. Nearer My God to Thee
13. Elijah Rock
14. Jesus Loves Me
15. It Is Well With My Soul
16. ' Tis So Sweet to Trust in Jesus
17. My Soul's Been Anchored in the Lord
18. Bright Canaan
19. Abide With Me
Rejoice: Christmas at Second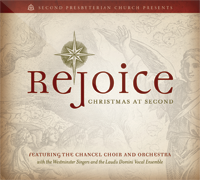 We hope this compilation of music that you will typically hear at Second Presbyterian Church during this season will be an aid to your private worship and will remind you of our precious times of corporate worship at our church.

You will hear a variety of carols, classics, and hopefully some pieces you did not know. Most of our recordings are live worship services or concerts and include a variety of our ensembles and soloists, as well as our magnificent 96-rank pipe organ. Download the cd booklet.
Order Rejoice: Christmas at Second online
Track Listing
Rejoice!
Hark! The Herald Angels Sing
Toccata on Hark! The Herald Angels Sing
And the Glory from Messiah
Sleep of the Infant Jesus
Infant Holy, Infant Lowly
O Holy Night
Gloria
Lo! How a Rose E'er Blooming
O Little Town of Bethlehem
Good Christian Men, Rejoice!
Gesu Bambino
Angels from the Realms of Glory
Joy Has Dawned
O Come All Ye, Faithful
Hallelujah from Messiah
Faith that Sings: Hymns We Love
This compact disc presents an array of hymns in a variety of settings from the various ensembles at Second Presbyterian. Featuring the Chancel Choir and Orchestra, Laudis Domini Vocal Ensemble, brass and strings, this collection displays the diversity of the Christian faith through music. From the singing of majestic hymns with brass and organ, to the contemplative sounds of the string orchestra, we hope this CD will lead us into a deeper understanding of God's love for us. Download the cd booklet.
Order Faith that Sings online.
Track Listing
Praise to the Lord, the Almighty
Be Thou My Vision
All Creatures of Our God and King
Like a River Glorious
Fairest Lord Jesus
My Jesus, I Love Thee
Praise My Soul, the King of Heaven
My Shepherd Will Supply My Need
And Can It Be?
What Wondrous Love Is This
O God Our Help in Ages Past
Come to the Waters
Take My Life and Let It Be
What Wondrous Love is This (Instrumental)
A Mighty Fortress is Our God
Peace Like A River
All People That On Earth Do Dwell
Now Thank We All Our God