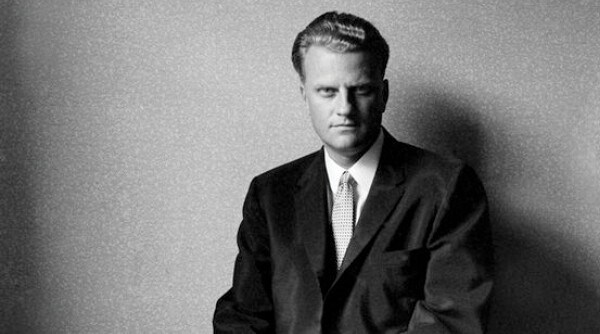 By George Robertson

Long before anyone in my family was serious about following Christ, we watched Billy Graham Crusades on television. Given the liberal theological church I was in at the time, I was fascinated by the response to his invitation after a simple sermon about the cross of Christ. I remember wondering, "Why would so many people who appear to be nice feel so guilty that they would need what Jesus did on the cross for really bad people?" After the Spirit graciously revealed how sinful I was, I understood. Jesus' death on the cross was no longer something for everyone else — it was for me!
From then on, I listened to Dr. Graham very differently. As he told the "old, old story" I was one of those who was "hungering and thirsting to hear it like the rest." I became one of the millions who felt Billy Graham was speaking directly to him through the radio, television screen, or seated among the throngs who came to hear him.
So when the opportunity came to work one summer for the Billy Graham Association in Amsterdam in 1986, I jumped at the chance, as did my girlfriend (now wife), Jackie, and her sister Janet. The event was called the International Conference for Itinerant Evangelists. From 172 nations, 8,500 evangelists gathered for a week of intensive teaching by day and preaching by night. Like a modern Pentecost, each heard in his or her own language (even dialect). Jackie, Janet, and I were "stewards," servers to the honored evangelists. Jackie worked with the film crew, Janet served at the help desk, and I was a driver for the program department (which now makes me question the BGEA's discernment!). Though I never drove Dr. Graham, I drove his associates, keynote speakers, and worked alongside the executives of the BGEA. That's where I learned three lessons from the great evangelist.

1. Humility
I learned from Billy Graham what everyone who knew him best observed: humility. I heard it from his preaching. He made rare use of personal illustrations, and if he did, he was never the hero of them. He frequently mentioned that he too was in need of the grace he was preaching. He never pushed a personal agenda or promoted himself in his sermons. It was all about Jesus.
I also observed it. While we were waiting for him to appear at a luncheon, my boss, one of his executives, said, "George, watch how Dr. Graham enters the room. You see those dignitaries gathered at the front waiting for him? They expect he will come to them first. But he will scope out the room as soon as he enters and find those against the wall, those who appear to be the most uncomfortable, and he will go to them first. He will look them in the eye, ask their name, and thank them for how they are serving. That is exactly what unfolded in front of me again and again.
Dr. Graham was diagnosed with Parkinson's Disease that year, but we were sworn to secrecy because he did not want people making a fuss over him. He wanted the focus to be on the evangelists, his honored guests. Dr. Graham's humility in always seeking first those at the "foot of the table" is a quality I aspire to imitate.

2. Simplicity
I also learned the importance of simplicity in ministry and message. His messages were short, in easily understood vocabulary, and always toward the same focus—"Jesus died to save us from our sin." One associate told me he was with Dr. Graham on one occasion when he was to give lectures at an Ivy League school. Dr. Graham was nervous about it and toiled away at developing lectures that would satisfy the intellectual curiosity of the elite scholars. He bombed the first one. Everyone was as bored as he was with the subject. In the elevator, one of his other trusted associates said, "Billy, don't try to be someone you're not. You're making this too complicated. Preach the simple gospel you are passionate about and leave the results to the Lord." That is exactly what he did the rest of the week. He preached the cross of Christ to these elite academics and some were converted! In fact, I recently heard a major evangelical leader trace his own conversion to what Graham preached that week.
I pray for God's patient crafting to rest in my identity in Christ and become more and more comfortable in the role he has given me to play in his Kingdom. Rather than bear the frustrating yoke of becoming what others expect, I want to multiply fruit from the simple gifts he has entrusted to me.

3. Authority
Dr. Graham seldom if ever used expressions like, "In my experience. . ." or "It is my opinion that. . ." or even "I think. . ." His constant refrain was, "The Bible says. . ." It was like a punctuation mark at the beginning of nearly every sentence of his sermons. He seldom made a principled statement without immediately backing it up with Scripture. Everything in my life and ministry goes better when I practice that disciplined submission to the authority of God's word. When I force myself to ask before any decision, expression of opinion, advice in counseling, or application in a sermon, "What does the Bible say?," the results are infinitely better.
By God's grace, Billy Graham's life was a picture of Christ-like humility, Spirit-empowered simplicity, and biblically-anchored authority. May Christ be lifted up throughout the earth through many of us as he was through this one man, that a numberless host would be gathered in and Jesus might come the more quickly.
Thank you, Father, for Billy Graham.