Recreation
The Sport & Recreation Ministry of Second Presbyterian Church is a church-supported nonprofit program designed for boys and girls ages 4-18. Second Presbyterian Church has provided this ministry for over 20 years, teaching and coaching youth the many values athletics have to offer.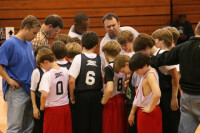 The mission of the Second Presbyterian Church Sport and Recreation Ministry is to glorify God and build His church by using sports, fitness, and recreational activities to provide an environment for Christian fellowship, personal evangelism, and service to our city.
We pride ourselves on building an environment where every kid matters and has the opportunity to enjoy playing sports. This is why we have a 50% present playing rule and we try our best to put together teams that are even in talent. Having even teams ensures that every child has a chance to be challenged and to improve in fundamentals. In light of keeping even teams, participants are able to list a friend request, but it's not a guarantee we will be able to place them all together on a team. Most importantly, we are a sports ministry and we want to always keep God at the center. Meeting new people, competing in a healthy environment, and growing as young men and women through sports is what we want to accomplish here at Second Presbyterian Church.
As a staff we are here to help you in any way possible so please don't hesitate to contact us with any questions or concerns. Listed above under the "sports staff" tab is our full staff and contact information. Thanks again for your interest in our Sport and Recreation Ministry here at Second Presbyterian and we look forward to serving your family.
Weather Information Line
For weather information on games/practices that will be going on at Second Presbyterian Church please call our weather line at 901-507-7888.
We update it at 2:30pm on the weekdays and at 8:00am on Saturday mornings.