MissionUSA
MissionUSA supports our denomination, domestic missionaries, church plants, as well as colleges and seminaries outside of the Memphis area.
MissionUSA Primary Partners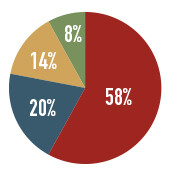 Distribution of MissionUSA outreach funds:
58% EPC Denominational Support & Church Plants
20% Campus Missionaries
14% Seminaries & Christian Colleges
8% Church Plants & Special Projects
Evangelical Presbyterian Church Denomination (EPC)
Funds given to our denomination help with administrative costs as well as support for World Missions, church planting, college ministry, urban ministry, pastoral education, and Women in Ministry within the EPC network.
Further information on the EPC can be found at www.epc.org
Campus Missionaries
We believe that gifted, well-trained leaders of Christian ministries on college campuses have unique opportunities to impact the lives of students by sharing the Gospel and modeling a lifestyle committed to following Jesus.
Anna Adams – InterVarsity Christian Fellowship at Univ. of Memphis
Email:

Brian Lewis – Campus Outreach
Email:

Chuck McElroy – Campus Outreach
Email:

Denny Catalano – Campus Outreach at Univ. of Memphis
Email:

John Craft – RUF at Rhodes College
Email:

Nate Mahrt – Campus Outreach at Rhodes College
Email:

Tony Dentman – Campus Outreach at Univ. of Memphis
Email:

Barry McGlothin – The Navigators International at Univ. of Alabama
Email:

Brent Webster – RUF at Berkley
Email:

Brian Sorgenfrei – RUF at Mississippi State
Email:

Jason Sterling – RUF at Ole Miss.
Email:

Matt Howell – RUF at Univ. of Tenn. at Knoxville
Email:

Richie Sessions – RUF at Vanderbilt
Email:

Scott Luley – Cru at University of North Carolina at Chapel Hill
Email:

Wes Simmons – RUF at Auburn University
Email:
Colleges & Universities
MissionUSA seeks to reach people for Christ, transform our nation, and expand the Kingdom. One of the most strategic ways to equip the next generation is through academic institutions.
Covenant Theological Seminary St. Louis, MO
Gordon Conwell Theological Seminary Boston, MA
Reformed Theological Seminary Jackson, MS
Covenant College Lookout Mountain, GA
Westminster Theological Seminary Philadelphia, PA
Union University Jackson, TN
Visible Music College Memphis, TN
LeMoyne-Owen College Memphis, TN
Church Plants & Special Projects
We seek strategic opportunities to partner in church planting initiatives, to develop Christian leaders, and to promote a Gospel shaped worldview.
All Saints Presbyterian Church
Rev. Waring Porter
1726 Madison Avenue, Memphis, TN 38104
Phone: 901-276-1478 Email:
Website: www.allsaintspres.com
Christ's Community Church
Rev. Lemar Walker
715 St. Paul Avenue, Memphis, TN 38134
Phone: 901-596-5170 Email:
Website: www.christschurchmemphis.com
Esperanza Church
Pastor Jesus Glory Morales (Chucho)
1302 N Graham St, Memphis, TN 38122
Phone: 901-513-2376 Email:
Innovation Church
Rev. Marron Thomas
3925 Overton Crossing, Memphis, TN 38127
Phone: 901-358-7788 Email:
Website: www.innovationmemphis.com
Christ Fellowship Church – Horn Lake, MS
Rev. Mike Winebrenner
PO Box 386, Horn Lake, MS 38637
Phone: 901-359-1220 Email:
Website: www.hornlakepca.org
Fountain Square Presbyterian Church – Indianapolis, IN
Rev. Pat Hickman
1104 Shelby Street, Indianapolis, IN 46203
Phone: 303-408-9720 Email:
Website: www.fountainsquarepres.org
New City Presbyterian Church – Royal Oak, MI
Rev. Ryan McVicar
Mailing Address: 104 W. Fourth Street Suite 304, Royal Oak, MI 48067
Phone: 248-808-8942 Email:
Website: www.newcitypc.church
Quest Church – San Antonio, TX
Rev. Brett Becker
12314 Jacobs Pond, San Antonio, TX 78253
Phone: 210-378-5675 Email:
Website: www.questchurch.iconosites.com
Saint Patrick Presbyterian Church – Denver, CO
Rev. Shane Sunn
1719 Emerson Street, Denver, CO 80218
Phone: 720-316-1279 Email:
Website: www.saintpatrickdenver.org
New City Fellowship Hollywood/Hallandale – Ft. Lauderdale, FL
Rev. John Houmes
1931 NE 54th Street, Fort Lauderdale, FL 33308
Phone: 954-609-6922 Email:
Website: http://www.hhchurchplant.com
St. Ambrose Presbyterian Church - Chelsea, AL
Rev. James Daniesl
4871 Hwy 39, Chelsea, AL 35043
Phone: 901-832-6907 Email:


Agencies
French Camp Academy
French Camp, Mississippi
French Camp Academy is a Christ-centered home and school that exists to serve young people and families for the glory of God.
www.frenchcampacademy.org
Palmer Home for Children
Columbus, Mississippi
Christ centered home for children who lack an adequate family structure.
www.palmerhome.org
Gospel Coalition
The Gospel Coalition is a fellowship of Evangelical churches committed to equipping the next generation for Gospel-faithful ministry, church reform, and cultural transformation.
www.thegospelcoalition.org

Christian Medical & Dental Association
Memphis, TN
"Change Hearts in Healthcare" as we reach, disciple, and equip Christian physicians, dentists, and medical and dental students to glorify God.
www.cmdamemphis.org