Philosophy of Music
We believe that the first priority in the Christian life — whether as an individual, a family, or a congregation — is the worship of God.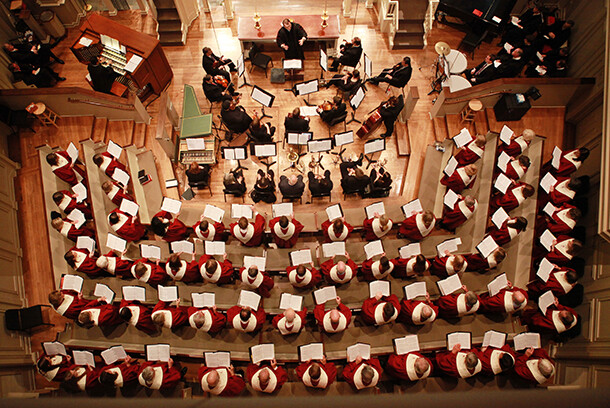 The first four of the Ten Commandments concern worship; the books of Exodus and Leviticus teach Old Testament saints how to approach God with reverence and awe; the Psalms are placed in the middle of the Bible as a congregational hymnal; the first concern of the post-exilic prophet, Malachi, upon return to the Promised Land, was sincere worship. Worship is the first evidence of the indwelling Holy Spirit (Eph. 5:18-20), the great mission of the Son of God (Romans 15:9-11), the desire of God the Father (John 4:23), and the purpose of the Church (I Peter 2:9, 10).


At Second Presbyterian, we believe that music is essential to godly worship, as revealed in both the Old and New Testaments. We are God's choristers! It is the believer's great joy to sing of God's being and His work in creation, providence, redemption, and the consummation of all things. If we fail to sing, the very rocks will cry out in our place! (Luke 19:40)


We believe that every Lord's Day is a festival day for the Christian. We expect Sunday worship services to be the pinnacle of our congregation's experience of God, until we see Him face to face. King David spared no expense in leading God's people in worship (cf. I Chronicles 23:1-5; 25:1-31). Neither did Solomon (cf. II Chronicles 7:4-6). Neither should we.


Given the priority of worship, and therefore music, in the Church, we believe it is important to provide outstanding leadership for our people. Our choir is a group of worship leaders who help us in our congregational singing and worship; remind us of the heavenly choir we shall one day hear, and speaks musically at times to the Lord on the congregation's behalf.


We believe that congregationally sung texts in the Church should express the glory of God in musical settings that are both beautiful and accessible to the people. The words sung should be theologically sound, spiritually helpful, aesthetically beautiful, culturally relevant, and liturgically appropriate. Also, musical texts should have musical integrity, artistic beauty, and liturgical usefulness. Our music should reflect the diversity of God's creation, just as our preaching consists of the whole counsel of God.


We believe that every believer must learn to "make a joyful noise unto the Lord," and the sooner the believer starts, the better! We therefore encourage our youngest children and youth to develop their voices and their abilities to play musical instruments.


Philosophy of Children's Music Ministry
Philosophy of Youth Music Ministry
Musical Objectives of Children's and Youth Music Ministry