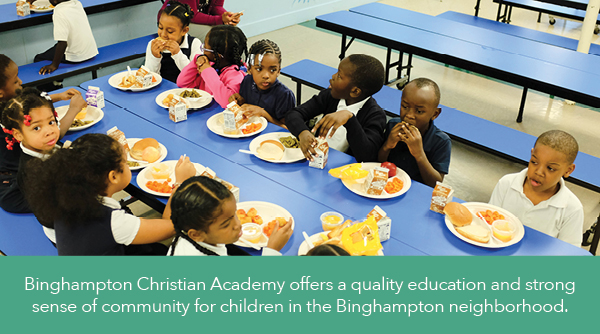 Jo Walt began Binghampton Christian Academy (formerly known as The Neighborhood School) in 1993, with the vision of providing a safe place for children K-8th grade in the Binghampton community to learn about the Lord and receive a quality education.
When the school opened, Binghampton was one of the most impoverished neighborhoods in Memphis and parents often didn't have access to a good school for their children. The tuition at the time was $100 a year, but families were never turned away due to inability to pay.
Currently, the actual cost for a student is $6,000 a year. However, BCA families only pay $200, even if they have multiple children at the school. This is possible due to private donations from individuals, which make up the vast majority of the school's budget.
"We try to make it where the families here don't have to be concerned with anything except getting their children to school," says Tari Harris, Head of School.
Functioning as a Family
Walt also envisioned a school that offered a residential program for kids who needed extra support and structure. When the school began, the program included five children. Today, 30 of the 130 total students live in the dorms on the BCA campus from Monday through Friday.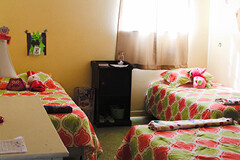 There is both a girls' dorm and a boys' dorm, which were built nine years ago. A full-time "dorm mom" leads the girls' dorm, while a married couple, who also teach at the school, lead the boys' dorm.
"Our residential program allows these kids to have stability and a solid home life," says Harris. "A lot of people pour into that program and expose the kids to experiences they probably wouldn't get at home, like going to the movie theater, Grizzlies games, and plays. They learn how to be responsible, do chores, function as a family, and take care of each other. It's a real sweet spot of the school."
Support on All Sides
In addition to the staff and dorm parents, the students at BCA receive support from the school's strong volunteer base, made up of more than 200 people. Because the residential students are on campus even after school hours, people who work during the day still have an opportunity to help out at the school.
It is volunteers who take care of providing dinner for the dorm students every weeknight except Wednesdays, when the kids go to church. Volunteers also spend time teaching the kids skills after school such as art and music, tutoring, serving as room mothers, and providing support through prayer. Each student at the school has a prayer partner who receives monthly prayer requests and who periodically visits his or her student in the classroom.
When one BCA student, Rogelio Duarte, faced a terrible family tragedy, it was his prayer partners, 2PC members, who ended up caring for him afterwards. Rogelio now attends Mississippi State University on scholarship, the first of his family to attend college.
Rooted in the Midst of Challenges
Children at BCA face many challenges, both academic and otherwise. Many children experience difficulties at home, and past students have even faced homelessness. BCA also has a large population of Sudanese refugees. These students are often behind academically and sometimes don't know English when they begin school.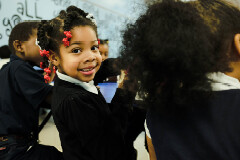 To help the children close these gaps, the school provides small classroom settings, made up of about 15 students and led by patient and encouraging teachers. Students who need the most academic support are often part of the residential program and can therefore receive extra homework help from their dorm parents and tutors.
"The teachers loved us for who we were, and that made it easier to become better students," says Ceasar Lomo, who attended BCA in 2001 and now attends church at Second. "I came to America as a pre-teen, which are the years during which we look for our identity. It's worse when you also have culture shock, but being rooted in the word of God, which BCA clearly taught, helped."
Life After BCA
After BCA students graduate, the school does everything it can to ensure a smooth transition for them into high school. The staff includes someone who is dedicated to helping match each individual student to the school that will be best for them.
"We try to hand pick a good fit for the child," says Harris. "We work closely with the parents and try to be sure their child doesn't just leave here and get lost in the shuffle at a big public school."
Many students attend French Camp Academy in Mississippi or Collegiate, a nearby private school. Evangelical Christian School also offers a scholarship about every four years to BCA graduates. This year for the first time, one of BCA's students enrolled at St. Mary's Episcopal School.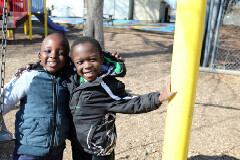 This student has actually remained living at the girls' dorm on the BCA campus and has a committee of volunteers who ensure she gets to and from school and after-school activities each day.
"The school functions more like a family," says Pam Hill, Chairman of the BCA Board. "If the children take advantage of what is there and are ready to step up, there are people here to help them."
Interested in joining the BCA family? The school has many opportunities for volunteers to get involved. For more information, please email