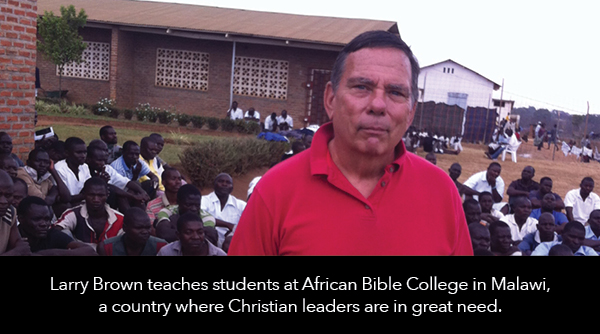 When 2PC member Larry Brown felt the Lord calling him into vocational ministry in 1987, he decided to pursue a degree at Reformed Theological Seminary in Jackson, MS. There he started to seriously consider the idea of international missions.
After spending two years in Japan with Mission to the World, Larry began looking for a new ministry. His uncle mentioned that his church in Mississippi supported African Bible College (ABC) and suggested that Larry get in touch.
"So I wrote them and they said 'come on over,'" says Larry. "I was single and was looking for something that had to do with missions, so there was my opportunity."
ABC, which opened its first campus in Liberia, established its Malawi location in October 1991. Larry arrived in February 1993 to teach classes in World History and Church History.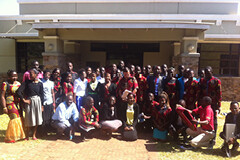 Since that time, Larry has seen many changes at ABC. Initially the school offered one undergraduate degree; now they offer five Bachelor's degrees and one Master's degree. The school also began a Christian radio station, a community clinic, and a K-12 school called ABC Christian Academy, where Larry's 14-year-old son, Carey, attends.
Building a Family
In 1997, while on furlough in the United States, Larry met his wife, Janet.
"We met online," says Larry. "Twenty years ago meeting people online was a new thing. Now everybody's doing it!"
Janet was living in Florida at the time working as a home healthcare nurse. Larry drove down to meet her in March, they got married in August, and moved to Malawi a few weeks later.
"Her story was that she prayed to God to please send her a missionary husband," laughs Larry. "I'm what she got. The point is: be careful what you pray for. You may get it."
In 2002, Janet received an email from a woman who had a ministry taking care of abandoned babies. She was planning to leave the country for a few days and needed people to take in the babies during her absence.
Janet was eager to get involved and soon the Browns were paired with a baby boy.
"Janet really bonded with the baby so when they took him back she was in tears," says Larry. "We soon became foster parents, and then after 16 months we completed the legal adoption process there."
Not long after, Janet was diagnosed with pancreatic cancer and passed away five months later. Larry and his son returned to the mission field at the end of 2005. Since then Larry has raised Carey as a single father.
"It has its challenges," says Larry. "Carey is the opposite kind of kid from the kind of kid I was; I was always quiet and bookish and he's social and athletic."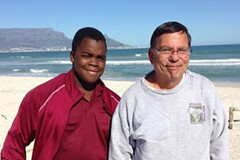 The Browns returned for furlough this past August and will return to Malawi in the summer. During this school year Carey has attended Harding Academy where he plays on the soccer team. He is also an excellent swimmer with 67 medals — from three different countries — under his belt!
Sheep Without Shepherds
For the Browns, mornings in Malawi begin around 7:30. Larry heads in one direction toward the college and Carey heads in the other toward school.
In addition to his teaching responsibilities, Larry preaches on various Saturday mornings at an overcrowded local prison through an interpreter.
"I think it's a key ministry where you can really reach people who are eager to listen," says Larry.
The area of ministry in which Larry has seen the most fruit, however, is through showing the Jesus Film in local villages.
In Malawi, about 15% of the population is Muslim whereas about 80% is Christian with membership in a church of some kind. However, there is a severe shortage of pastors such that one pastor may be in charge of 10-15 prayer houses scattered around a geographical area. As a result, most people living in villages only see a pastor one or two times a year.
Furthermore, although the majority of people might identify as Christian, it is often the case that the label is more cultural than personal.
"Typical Malawi Christians actually don't know a lot about the Christian faith for lack of people to teach them," says Larry. "There's a lot of gaps in their knowledge; their Christianity can be a list of do's and don't's because up to now they've pretty much been sheep without a shepherd."
It is this lack of strong Christian leadership that ABC is seeking to correct. Although not all ABC graduates go on to become pastors, they can still serve as elders and Sunday School teachers in church. Even those who become teachers (which is more students than those who become pastors) can pray with their students in school.
"In the public schools you're pretty much expected to pray; this was the case even when the country had a Muslim president," says Larry. "So in a sense there's more religious freedom in Malawi than in the US."
Ministry in Malawi
In Malawi, faith in the supernatural, including a popular belief that humans can turn into hyenas, is pervasive across the country.
"Their worldview is more like the people of the Bible because they haven't been affected by the Enlightenment worldview," says Larry. "So when the Bible talks about good shepherds and sowers and seeds—the agricultural illustrations used by Jesus—they connect to that because it's close to where they are."
In one sense, this makes sharing the Gospel in Malawi much easier than in America, where faith in the supernatural is met with skepticism. On the other hand, longstanding beliefs can be hard to displace.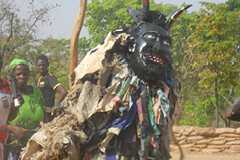 "One time after a group of Malawians had accepted Christ, I told them that they could cut off the charms they had to protect them from evil since Jesus has defeated the forces of evil," recalls Larry. "They were reluctant to do that until they noticed 9-month-old Carey. When they saw how happy and healthy he was without any charms around his neck they were induced to cut theirs off. So at 9 months Carey was an effective evangelist."
Home Sweet Home
When ABC first began, it was run entirely by Americans. Slowly that has changed such that now, most of the classes are taught by Malawians, many of whom are ABC graduates. This was always the vision for the school and is a welcome shift. Larry, however, has no thoughts of slowing down.

"I told them I don't plan to retire," laughs Larry. "I'll just drop dead in front of the students one class; they can bury me underneath the soccer pitch there and maybe have a moment of silence before the first game."
Although Malawi seems worlds away, it's home for Larry. The visits back to the United States, away from the ministry he loves, are what can feel more challenging than life on the field.
"Missions is a wonderful life if God has called you to do it," says Larry. "If God hasn't called you to do it, you'd be miserable and wouldn't last very long. But I feel like I'm right where God intends for me to be."