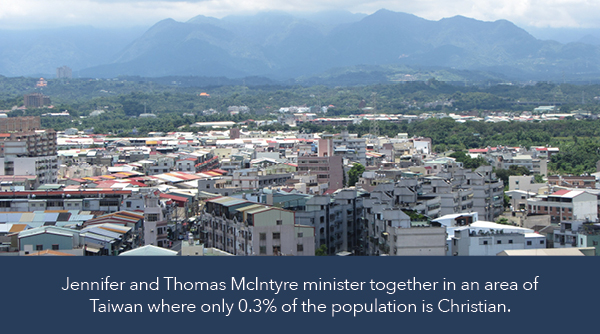 When Jennifer McIntyre first went to Taiwan, she thought it would be for a year, before going on to pursue journalism in New York. Ten years later, she is still there, doing ministry with her husband, Thomas, and their two children.
Thomas, who grew up at Second and felt called to missions as a teenager, went to Taiwan for his internship through Reformed Theological Seminary. Although he was open to anywhere, his experience in the International Class at Second piqued his interest in Asia. Jennifer and Thomas met in the capital of Taiwan, got married one year later, and began full-time ministry together in 2009.
Time and Endurance
The religious culture of Taiwan is quite different from that of the West, and where the McIntyres are working is especially dark — less than 0.3% of the population is Christian.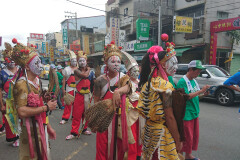 "Idol worship is a really critical part of the culture and it's been passed on for generations," says Jennifer. "They worship ancestors and have a lot of different gods—of agriculture, wealth, education—so when they have a problem they'll go to that particular god for help and worship them by paying money for incense."
Ancestor worship is important because it is believed that if the family does not worship the ancestors, the ancestors will not be provided for in the afterlife. Family members who do not participate in such worship may be shunned, labeled an "unfilial" part of the family. This potential conflict with family is a significant deterrent to anyone considering conversion to Christianity.
The culture is also syncretistic, a mixture of many different religions and beliefs, to which the idea of an exclusive God is repulsive.
Because of such barriers, ministry in this region is slow and requires much patience.
"It takes a lot of time and endurance," says Jennifer. "We've found that it takes being in a certain area for a long period of time to form relationships with people. Over time they understand that you're not just there for a short period, but you've actually made a life choice to dedicate yourself to Christ. I think that's touched a lot of people."
To communicate their intentions, the McIntyres tried a different approach, beginning with a park ministry.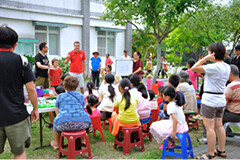 Each week, Thomas, Jennifer, and their children would go to a park and lay out blankets and toys for families to use. This ministry, though simple, has been foundational for building long-term relationships.

"You always have to give everything with a full measure of love," says Jennifer. "You can't just preach to someone and not love them first. When we're at the park we're not just going there and yelling out Bible stories. We're putting out toys for kids to play with and we talk to people and get to know them, which a lot of Taiwanese people don't do with strangers. We ask them questions and we care for their children. And then we have our time where we sing and share the Gospel. But by then they see that we care about them, the community, and their families."
Driven by Vision
In 2011 the McIntyres started a church, the Sanhe Gospel Church, which meets in Chiayi County and is attended by several families.
Recently, they teamed up with a local church—with a congregation of about 250 people, it is considered a large church in the area, located about 15 minutes away by car. Leaders from this church will come in each week and teach many of the Bible studies at the Gospel Center.
"The idea behind the partnership was that when people in Taiwan look at somebody like me, they think that Jesus was born and raised in the USA," says Thomas. "By partnering with a local church there's this immediate sense that Christianity isn't a foreign religion, and it's important for them to hear not just a foreign teacher, but a Taiwanese Christian, teach the Bible. From the very foundation they're meeting local Christians and we've seen that make a huge difference in people's willingness to believe."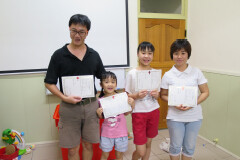 So far, Thomas and Jennifer have seen 14 people profess faith in Christ, including a whole family, and 12 baptisms. In Taiwan, where ministry work is very slow, this number of conversions has been amazing to witness.
Even so, the McIntyres are careful not to become too results-oriented in their ministry, especially as they face much more rejection than belief and acceptance.
"We are very vision-driven so as a team we have a clear vision of what we want to be and do," says Jennifer. "The results of that vision are totally up to God. We feel like as long as we're committed to that vision we're doing our job."
"It's good to have a strong sense of calling too so when things don't work out, you still know you're in the right place," says Thomas.
The Gospel through New Eyes
Although rejection comes with the territory, sharing the Gospel in a difficult place can bring great joy.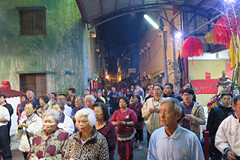 "I find it really fun to teach the Bible to people when they have no concept of Christianity because they're so amazed by everything," says Jennifer. "In Western Christianity people are more skeptical—they look at the text and think, 'Do I want to believe this or not?' But with people who haven't ever heard the Gospel before it's kind of like 'Wow, that's really what your Bible says?'"
In Taiwanese culture, many deities are people who performed good deeds on earth and then became gods. Because of this, the idea of Jesus coming down from Heaven to live as a man is a particularly fascinating idea.
Ministry in Taiwan has also changed the McIntyres' own view of the Gospel.
"I've found that in general I love the Old Testament more than I used to," says Jennifer. "In the West, people say, 'There's not really these kinds of idols anymore but we have our own idols.' But there are actually places where there are idols exactly as portrayed in the Old Testament. Because of that, it makes spiritual things much more concrete and relevant to day-to-day life."



If you would like to learn more about the McIntyres' work in Taiwan, you can watch this video about their ministry. You can also email them at . Ladies are invited to hear from Jennifer at the World Missions Conference luncheon or dinner on February 23; register online at 2pc.org/women.