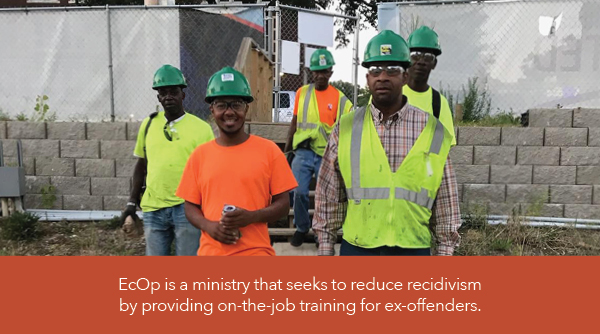 "The most effective way to stop recidivism is jobs," says Josh Davis, executive director of Economic Opportunities (EcOp). This belief is at the core of the ministry, which since 1991 has strived to provide employment opportunities for ex-offenders.
"Once you've been in jail, you have to check that box on applications and most Human Resource departments just put those in the garbage can," says Josh.
Through connections with prisons, halfway houses, and other transition centers, candidates are referred to EcOp. To be accepted into the program, individuals submit an application and go through an interview, in which they must demonstrate maturity and motivation to work.
Expanding Opportunities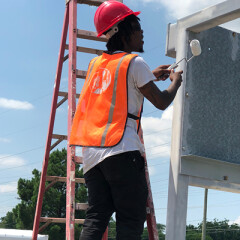 In contrast to some job training programs, in which participants take classes to prepare them for future employment, EcOp provides on-the-job training. Participants are assigned a temporary position at a company where they work for about six months. For the first 30 days they are paid $10 an hour. After the first month, if they worked consistently, arrived on time, and exhibited a strong work ethic, their pay is increased to $12 an hour.
"After participants finish the program, one of two things will happen," says Josh. "Ideally, they'll get hired at the company they were working for. But, if the company doesn't have a permanent opening at the time, the employee will at least have a resume that we've helped with and references from the company and from us. That way they will be much more employable even if they don't get hired at the original company."
Until lately, EcOp had one company partnered with them that offered employment opportunities to program participants, Barnhart Crane & Rigging.
"The company recently became frustrated that they were the only company participating in this," says Josh. "While it was making a huge difference in the lives of 20-30 men each year, they knew that to make a real impact in Memphis, we needed the participation of 10-20 companies."
As a result, Barnhart and EcOp worked together to devise a new financial system and marketing materials in order to better present the program to additional companies.
"In God's perfect timing, the economy right now is conducive to companies really listening to us," says Josh. "Maybe five years ago our program would have been a tough sell, but it really hasn't been lately."
EcOp has now added three companies to provide employment opportunities to their program participants, Standard Construction, Turner Construction, and Bryce Corporation.
The Role of the Shepherd
Programs that offer job training to ex-offenders are not uncommon. However, what is also not uncommon is for participants to go through these trainings and, later down the road, end up back in jail.
"What we found was that the government and other non-profits were doing a good job of providing job training and educational opportunities for ex-offenders," says Josh. "At EcOp, we said, 'Hey, let's piggyback on all that education and training other programs are offering and help ex-offenders get their lives back in order so that the issues in their personal lives won't undermine all the other support they received.'"
For this reason, EcOp employs what they call "shepherds."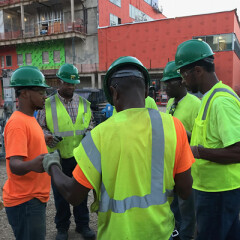 "We provide each company with a shepherd, someone who works with 6-12 men at a time," says Josh. "Shepherds are often on-site and serve as supervisors for the participants, but not in a typical supervisory role. While the managers at the company of employment will tell the men their day-to-day activities, the shepherds work with the men on life skills."
A few of the most common areas of need that shepherds focus on are transportation, which can be a significant barrier to work for individuals coming out of prison; housing; and family relationships.
"A shepherd will sit down with someone and find out which of his family members he's still in touch with, if any," says Josh. "If that man says he hasn't spoken to family in years, the shepherd knows that's an important issue that needs to be addressed. We have found that, if after the program, no matter how well someone has been trained or how well they've performed, they're going to fail if they don't have any support."
An important skill for shepherds to possess is that of discernment. In one situation, a participant with a history of drugs and alcohol had been in the program for five months and was on track to be hired by the company when, one weekend, he fell off the wagon.
"He was so embarrassed after that episode that he didn't show up for work," says Josh. "Well, his boss and the shepherd went to find him and basically said, 'We love you. Come return to work.' So they brought him back and he's still there today."
The shepherd knew that in that instance, the participant needed to be shown grace. At other times though, when grace is taken advantage of, adherence to the rules must be enforced.
Once, an EcOp employee was receiving positive feedback from the employer, who wanted to hire him after the program ended. Feeling secure in his position, that participant no longer wanted to arrive early at work with the other EcOp participants, as the shepherd had asked of them. When the shepherd brought the issue up to the employer they agreed that, for the sake of the program's integrity, consequences must be enforced.
"So he was warned by the shepherd to show up at 6:30 or he'd be fired," says Josh. "The participant didn't really think the shepherd would follow through but the next day, when he did not arrive at the specified time, he was let go from the program."
Shepherds come from a variety of backgrounds; some are former counselors or pastors, while others are ex-offenders themselves, who want to support others in transitioning to a new chapter of life.
Worth the Risk
Companies that partner with EcOp do assume some risk when they hire ex-offenders. However, in the vast majority of cases, this risk has paid off big dividends.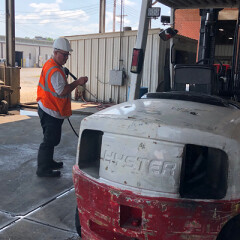 "Our experience has been that ex-offenders make great employees," says Josh. "For the most part, they are very appreciate people because they know that most companies won't hire them. But once you give them the chance, the vast majority are going to be some of your best employees because they don't want to return to life in prison, and they know that can happen so easily if they don't have employment."
This quickly became evident to Bryce Corporation, one of EcOp's newest employment partners. After the first week of employing EcOp participants, they called to ask if the men could work overtime. After the second week, they called to ask if they could add participants to a night shift.
"The company told us that the ex-offenders coming in with good attitudes and working hard — coming early, staying late — has raised the standard of their organization," says Josh. "The ex-offender population is great to hire from. If we can get that message out to the public, that will go a long way in reducing the crime rate in Memphis."
To learn more about EcOp, visit ecopmemphis.org