One of the greatest joys of living in Memphis is interacting with our neighbors. We see each other at work, school, local restaurants, church, and in the communities in which we live.
We hope you'll use the map and Prayer Book linked below to familiarize yourself with our ministry partners, learn more about several key Memphis neighborhoods where they serve, and to pray for our neighbors.
Note: For best map results on a mobile device, use the fullscreen function.
Mission Memphis Prayer Book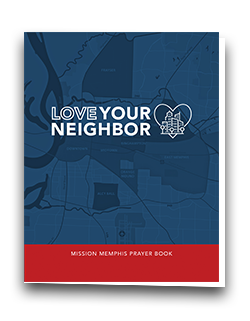 Prayer is key for change in our city. This prayer book is a resource to help you better pray for our mission partners and to consider how to pray for your own neighborhood as well as other neighborhoods in Memphis.
We hope that this book will encourage your growth as a loving neighbor. We have included ways to pray for each of our ministry partners, maps of several key Memphis neighborhoods where our partners serve, and some general guidelines and exercises you can use to pray for your own neighbors.