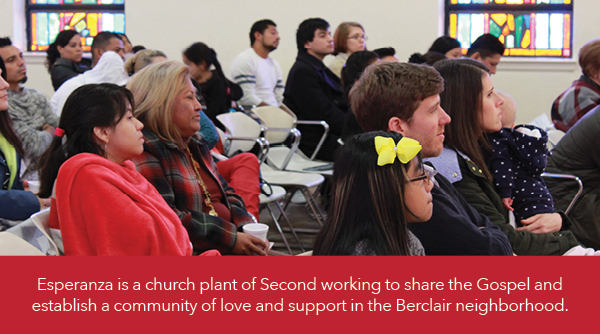 This article is based on an interview with Pastor Chucho, in which his son served as a translator.

In 2005, Second Presbyterian "adopted" Berclair Elementary School through a program sponsored by Memphis City Schools. As 2PC members became increasingly involved with the school, some of the community's needs grew more apparent.
To address two of the biggest needs, a new ministry called Su Casa Family Ministries was founded in 2008 to minister to Hispanic children in the neighborhood and to provide English classes for adults. Central to the vision for the ministry at its outset was a conviction that a church should be established to respond to the spiritual needs of families in the neighborhood.
In 2010, under the leadership of Reverend Ricardo Green, Comunidad Cristiana Esperanza (Hope Christian Community) church was established. While the ESL classes rapidly increased in size, the church did not experience the same level of growth.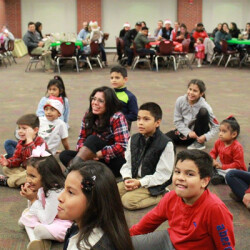 During the beginning years, and even now, volunteers from Shalom Presbyterian Church in Merida, Mexico, where Second's youth ministry travels each summer, would come serve at Esperanza, working with the children or assisting in discipleship. One of those volunteers was Manuel Jesus Glory Morales, or "Chucho," as he is more commonly known.
After serving as pastor of a church in Merida for more than 20 years, Chucho accepted the call to serve as pastor of Esperanza in Memphis near the end of 2014. The church, which had gone without a permanent pastor for more than two years, was in need of a strong leader to support the spiritual growth of its attendees.
"Pastor Chucho is so relational," says Dawn Shute, a 2PC member who regularly attends Esperanza. "If you attend a service on a Sunday you're not going to get out of there before he has come over to greet you and make you feel welcome."


"Each time I visit an Esperanza worship service I am impressed with the attentiveness of adults as well as children and the worshipful spirit that exists," adds 2PC member Eddie Foster. "There is a very real sense of God's presence and I am grateful that week after week the Gospel is being proclaimed to those attending."
A Church for the Unchurched
Since he started at Esperanza, Pastor Chucho has seen a steady increase in attendance to Sunday morning services. Attendance to Sunday school classes and Bible studies, however, has not followed the same pattern.
"Eighty-five percent of people at church have Catholic backgrounds," explains Pastor Chucho. "In Latin America, if you're Catholic you only go to Mass, and that's it. For those attending Esperanza now, coming every Sunday is a big step."
While Pastor Chucho is pleased with this increasing commitment, his primary goal for each attendee is to get them connected with a small group or Bible study. This has proved difficult for a couple of reasons, the first of which is simply expectations.
"I often hear, 'If I come to church every Sunday then why do I have to go to Bible study?'" says Pastor Chucho. "And also, 'If I come to Bible study or Sunday school, why do I also have to have a small group?'"
However, even for those who are interested in joining a small group, time restraints prove very prohibitive.
"The Latin people work a lot during the week," says Pastor Chucho. "They have set start times but they don't always know when they will get off each day."
As a result, Pastor Chucho has begun trying to meet one-on-one with men in the church to help accommodate individual schedules. ("He's doing that now, but we'll see how long he can keep it up," his son, Adrian, jokes)
Among his congregation, Pastor Chucho has also run into some resistance to the idea of church membership.
"People with Catholic backgrounds think, 'I already go to church—why do I have to become a member?'" says Pastor Chucho. "In Catholicism, people are Catholic because they're born in a Catholic household. In an Evangelical church, though, you choose to become a member."
Currently, six Esperanza attendees are in the process of becoming members of the church, which will make a total of 18 members.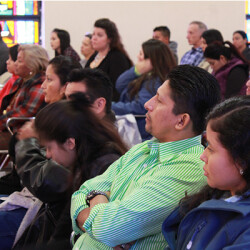 Although having a church full of new believers presents a challenge in terms of church leadership and having a sufficient number of people who can disciple others, it also has its benefits.
"It's good because we have the chance to teach them Reformed theology and don't have to undo any bad teaching," explains Pastor Chucho.
In the process of introducing new doctrines, Pastor Chucho wants to be sure to encourage his congregation to take responsibility for their own walk with the Lord.
"Many people are coming from nominal Catholic backgrounds but have never really read God's word," says Dawn. "That's one of the things Pastor Chucho puts out there. He's says he doesn't want to put the Scripture on the screen and deter people from opening their copy of God's word and following along. He's really trying to train a completely unchurched population to seek God through His word."
A New Name
While the vast majority of people who attend Esperanza have some connection to Su Casa, Pastor Chucho encourages people he meets out in the neighborhood to visit the church. In doing so, he has often encountered a similar response.
"When I invite people I meet to come to Esperanza they say they don't want anything to do with another Evangelical church because they have had bad experiences—mostly churches just asking for money," says Pastor Chucho. "They see the church as the pastor's personal business."
He's heard stories from people who have seen much hypocrisy in their pastors and are wary of getting involved in another church.
"Those things happened because many of the Hispanic churches here aren't under an authority," says Pastor Chucho. "People here have experienced churches with no ecclesiastical discipline."
Consequently, the name of the church recently changed from Comunidad Cristiana Esperanza to Iglesia Presbiteriana Esperanza (Hope Presbyterian Church).
"The stories that I heard had an impact on me," says Pastor Chucho. "So now if we have 'Presbyterian' in the name people can ask 'Why?' and we can say that we are under an authority and tell them the doctrines that we believe in. It's a way to give people security and create trust."
Slowly but Surely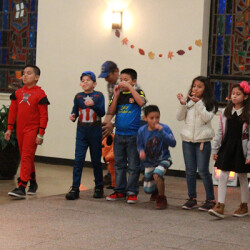 In the past year, Esperanza had an average of 73 attendees at its Sunday services, and in the last three months that number has increased to 100.
While a welcome sight, this increase exacerbates the dearth of leadership the church faces which, in addition to the low average level of education of its attendees and lack of church experience, makes discipleship a slow process.
Despite these challenges, the future of Esperanza looks bright as its attendees continue to grow in their faith.
"The leadership of this church really feels a need to have a place in the Hispanic community where people can come get sound teaching, support, and love," says Dawn. "When prayer requests come up — from health to broken families to uncertainties relating to enforcement of immigration laws — it's amazing to see the way that Pastor Chucho responds in prayer and is seeking God's face for the people in the congregation. I see why they come."


By: Danielle C. Smith