Mandi and Joseph met through Campus Outreach while attending Tennessee Tech University. They shared an interest in international ministry but weren't sure where that might lead.
In 2006 they moved to Memphis and began attending church at Second. Each year at the World Missions Conference they felt a stirring in their hearts but struggled to discern where God was calling them.
"We had some Indian neighbors so we decided to engage them through relationship," says Joseph. "We realized they had a different way of thinking so we tried to learn more about them and about India. Every Saturday morning we'd ask for discernment and direction as we prayed through the Operation World prayer guide."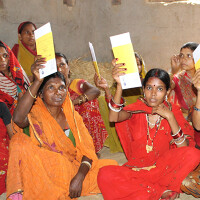 In 2010, the couple took a vision trip to India, where they met with the Youngs, a missionary couple from Second. On the last day of the trip, the Youngs extended an invitation to Mandi and Joseph to join their team. After returning home, they wrestled with the decision of what to do.
"Even though Mandi loved it, I didn't have a warm, fuzzy feeling when we were in India and didn't have a deep sense of peace," says Joseph. "But as we reflected I realized that God had planted this seed in our hearts, that we had connected with Indian people, and then had been invited to join a team to reach that people group. So it was like, 'What else are we waiting for?' I didn't need to have a 'special feeling.'"
About six months after returning from the trip they committed to serving in India. In January 2013 they moved with their son, who was 18 months old at the time.
Sowing in Tough Soil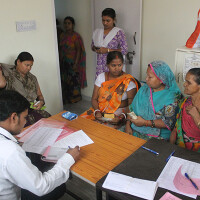 Once there, Joseph began serving with a ministry that focused on providing microloans to women to help them begin small businesses. The ministry also installed fresh water hand pumps, which often provided a point of connection to pastors in a new area. Joseph also served as an elder in a local church funded by the EPC.
In addition to caring for her own children (their second son was born in 2015), Mandi became the church's children's director. In her time there, she was able to form a strong friendship with the pastor's wife, who didn't otherwise have a strong peer network to provide her with support and encouragement.
Evangelism in northern India, which is 80% Hindu and 20% Muslim, is slow work. Many of the educated people were aware that Jesus was a part of the Christian religion, but most people had never heard the name.
"Although we always felt welcomed and loved in the Muslim communities we didn't really see much fruit there," says Joseph.
Sensing a New Call
Although the initial commitment was for five years, Joseph and Mandi began to feel some unease with their placement about three and a half years in.
"We were worried about school for the kids and there was some misalignment of theology with other leaders," says Joseph, "so we entered into an extended time of prayer and fasting."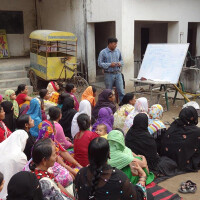 At that time, August 2016, the couple's team was growing and was about to become two separate teams. Joseph and Mandi were considering becoming leaders of the new team, a decision that further contributed to the dissonance they felt.
"We were getting counsel from a lot of people," says Joseph. "Our oldest son never really picked up on the language like we expected him to and he didn't want to go outside. We were told the Lord might be using our children to redirect us."
As international missionaries who felt they had answered a clear call from the Lord, it was difficult for Joseph and Mandi to consider leaving India before the end of their commitment. Conflicted, they spoke with another man who had served in India years before and found encouragement in his experience.
"God had given him the grace to go and the grace to labor, and then it was like He took away His grace for that work," Joseph recalls. "You could see there was nothing there—just bitterness, exhaustion, and cultural burnout, and I think that really described where we were at that time. The Lord gave us grace to get there and do whatever work we had accomplished the first three years and then had pulled back for that work. We were hopeless and helpless and ultimately decided that yes, it was time to come back."
In addition, Joseph contracted an illness in October 2016 that caused him to spend 18 days in bed. He suffered from joint pain, had difficulty walking, and later experienced heart attack symptoms, which led to stays in three different hospitals.
"I think the hospitalization, which happened in March 2017, provided final confirmation for our teammates that our departure was the best thing, not to mention the stress it caused our family," says Joseph.
In July 2017, Joseph, Mandi, and their two sons moved back to Memphis.
Strange Fruit, Thankful Hearts
In the same situation, different people may have felt a sense of disappointment over needing to leave their assignment early. But looking back, Joseph and Mandi are grateful for the time they spent in India.
"We had some strange fruit—can't say it was good fruit, some weird things happened—but the fruit produced in our personal hearts made it all worth it," says Joseph. "It was also rewarding to engage in a place like that, knowing God was using us to accomplish the things He wanted done. And whatever was accomplished was not by us—you go in thinking you're going to do one thing and then it's totally different. Because of that, you don't get any credit for what's accomplished. He gets all the glory."
Their time on the field has also afforded them a perspective that they might not otherwise have.
"It sounds silly but after being there and coming back, I'm just thankful for the little things like green grass and trees," says Mandi. "There just wasn't a lot of nature in the city where we were. I really missed that."
In her time there Mandi also battled depression which, though difficult, strengthened her relationship with the Lord.
"I could've struggled with that here too, but I think it was worse in India," says Mandi. "In dealing with that while being away from home I was forced to go back to truths and combat lies that I was believing. The psalms, especially Psalm 42, really spoke to me during that time."
Next Steps
As far as what comes next, Mandi and Joseph are open to where the Lord might be leading.
"We have our hands open to the Lord," says Joseph. "We don't think our calling is full-time ministry but certainly ministry will always be part of our lives."
Both are considering returning to the vocations they had prior to leaving for India — banking for Joseph and pharmacy for Mandi. Although the future is a little hazy, their experience has prepared them to lean especially hard on the Lord in such situations.
"One of the biggest things I learned about God in India was His faithfulness, time and time again," says Mandi. "I can now more easily combat any lies I'm tempted to believe because He's proven Himself over and over again."