This Sunday, February 17, we will begin two new sermon series in our morning and evening worship services.
In our morning worship services, we will be studying the book of Exodus. Exodus provides perhaps one of the most dramatic depictions of God delivering his people from bondage to sin and suffering so that they might serve him. The first half of the book describes redemption. The second half of the book describes our grateful response to redemption. In other words, Exodus is the gospel.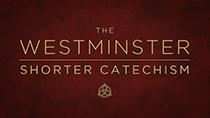 In our evening worship service, we will be studying the Westminster Shorter Catechism (WSC). The WSC is a resource Christians have used for hundreds of years to train themselves and their children to understand how the Bible applies to life. In other words, the WSC takes all the biblical "data" and summarizes it into succinct, memorable questions and answers to guide us as we seek to rightly apply God's Word to all of life.
We hope you will join us as we dig deep into God's story of redemption in Exodus in the mornings and then "zoom out" to see the bigger picture in the evenings.
Resources will be made available online not only to prepare for the upcoming worship services but also to discuss and apply them throughout the week.