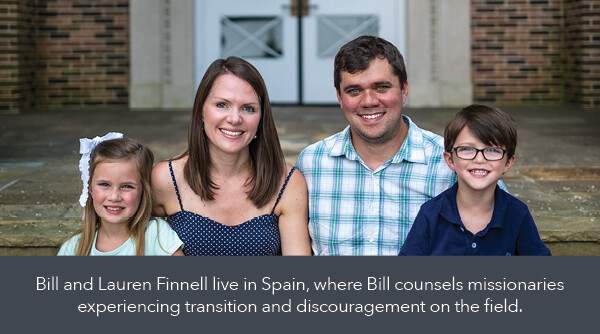 International missionaries face a number of strains on a daily basis — everything from buying groceries to obtaining visas can be taxing due to language and cultural differences. In addition, many missionaries labor for years without seeing much fruit. Over time, these stresses add up, leaving many worn out, physically and emotionally. This is where the Finnells come in.
Second members Bill and Lauren Finnell met at 2PC and got married in 2007. Both had been on short-term mission trips with the church individually and had a heart for international missions.
"We knew that mission work was going to be part of what we did as a couple, although I didn't feel the call to missions until after graduate school," says Bill.
After Bill earned his degree in counseling, they needed to discern how best to apply it in the mission field.
They met with Ron Sadlow, the Second's Director of World Missions at the time, and learned about Member Care, a ministry dedicated to counseling missionaries. They were encouraged to consider countries that had missionary schools, as these would be hubs for missionary families. A few countries, including Spain, had schools with counseling positions available.
"With our calling, we could be anywhere really," says Bill. "We weren't called to a specific indigenous group so we had to narrow it down another way."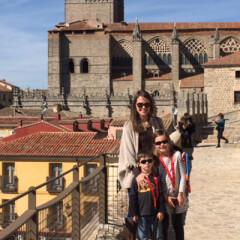 Furthermore, because of Lauren's experience as a teacher, the school setting was even more appealing as she could work as a tutor or consultant. The Finnells visited in 2012 and moved in April 2015 with their two children, Abby (8) and Will (4).
Rest for the Weary
The first two years on the field held many changes for the Finnells. In addition to learning a new culture and language (Lauren took Spanish in high school, and Bill had no previous experience with it) and helping their children do the same, they're now preparing for their third move since leaving the States. They initially lived in Madrid and then moved about a year ago across the city. When they return from home assignment this fall, they will move to a city in the south of Spain near Malaga. Considering their call to serve missionaries in transition, it only seems fitting that the Finnells would face so many of their own.
"You have to practice what you preach," says Bill. "You can't care for anyone if you're not caring for yourself. Lauren is good about reminding me of that."
In their new city, working under Church Resource Ministries, the Finnells will join a team of counselors, psychologists, spiritual directors, and coaches who develop missionaries and help set them up for success.
"We'll be providing care for everything from trauma and crisis response, to basic team building and leadership development, to long-term counseling," says Bill. "We'll also help people with transitions, whether they've moving to the field for the first time, sending their children off to college, or getting ready to retire. Many of those transitions happen with very little support so we try to provide that in whatever way works best for the families."
Sometimes this means speaking with missionaries over the phone or Skype, having the missionaries visit them in Spain, or making home visits in the towns where the missionaries serve. Home visits are usually two or three days but can be up to a week, depending on the situation.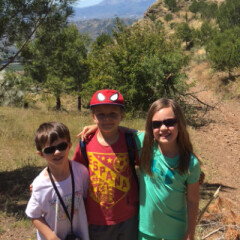 In his role, Bill will focus on working with families with children, and specifically the children themselves. For Lauren, much of her ministry will be in offering hospitality at their home while providing support to their children as they adjust to a new city.
A Post-Catholic Culture
For missionaries all over the world, it can be dangerous to divulge the nature of their work due to security issues. In Spain, it can be risky for a different reason.
"If you say you're a missionary in Spain, because of their Catholic background, that would be offensive because they already consider themselves to be Christians and think missionaries are for underdeveloped parts of the world," says Bill. "It would be like you were calling their country backwards."
Although pervasive, the influence of Catholicism doesn't necessarily reach the hearts of the people.
"The Catholic church is part of the DNA of the people there, but it's just a cultural thing," says Bill. "The cathedrals are empty — they're big museums that people pay to go see but no one really worships there."
Chucking the Checklist
One of the biggest adjustments that Bill and Lauren have had to make is in their perspective of time.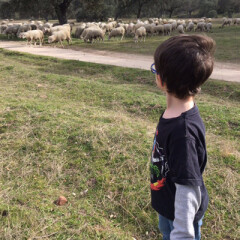 "We were surprised by how much we had to slow down in order to adapt to the culture there," says Lauren. "Often times people from the States would ask us, 'What did you do today?', we'd respond, and then they'd ask, 'What else?'. But there it's not about how many things you can check off the list that day."
This more relaxed attitude toward time has its frustrations (you can't just pay a registration fee online) but also its benefits.
"Where we value efficiency, they value relationships," says Bill. "So going to dinner is not about the food, it's about the people you're having dinner with. The waiters don't bring you a check until you ask for it and they expect you to be there all night. They don't care about trying to turn the table over and get other people seated."
This attitude even permeates the business world. In Spain, most people go to work at 9:00 a.m., take a break from 2:00-5:00 p.m. during which they enjoy a long meal and siesta, and then return to work until around 8:00.
While Spaniards frequently spend time socializing together, it can take time for newcomers to form deep connections.
"Spaniards are friendly and hospitable but at the same time, if you're an outsider, they're hesitant to welcome you into their lives," says Lauren. "We've been told it can take as many as eight years to be able to have more in-depth conversations about how/why you parent your children or about spirituality. We knew that coming in, which helped, but it's still hard in the initial phases because you're longing for connection."
As the Finnells prepare to return to Spain at the end of summer, please lift them up in prayer, specifically for housing, school for the kids, and Bill's new ministry role.