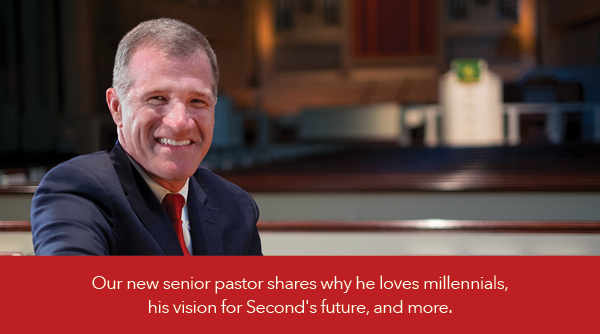 Q. What's been your favorite thing about Memphis so far?
A. I think variety would be the main thing. We've enjoyed Shelby Farms and the restaurants and the festivals — there's something to do all the time!


Q. What are some things that initially attracted you to Second?
A. It's geography first of all. Second is strategically located in the city to be a resource, particularly to distressed areas of the city. I was in a suburban setting in St. Louis and I was called to First Presbyterian in Augusta because it was a church that was hurting; that was the initial draw. Later I realized it was in the urban core of the city and I had a conviction that you reach out to your neighbors and become the church of the neighborhood you're placed in, and that was a very distressed neighborhood. The congregation and I learned what it meant to be a resourced church in a distressed neighborhood, and we got tutored in the Shalom model that Sandy Willson, Fenton Wright, and others here developed. So I grew to love that kind of ministry — racial reconciliation, community development, social impact ministry — so much that if Second had not been located in that kind of area and had those kinds of connections, it would have been of no interest to me because that's just where my heart is.


Q. What are you most looking forward to about being pastor here at Second?
A. First it's the preaching and teaching of the Word, which is foremost in leading a church. Building on what Sandy and the other pastors have already started, it's creating a sense of expectation and vibrancy in worship and having worship morning and evening be the driving force for all other ministry and mission. There's nothing more important to me than that emphasis. Sometimes large churches, like the one I came from and like this one, can unintentionally but by default put worship on an equal footing with everything else. We have to be called back constantly to the biblical priorities, and that is worship first and foremost.
Second, when you're living consciously in the presence of God with a sense of expectation at the idea that your worship is connecting to the worship that's occurring in Heaven, you can't help but see in your sanctified imagination that Heaven is diverse. Then you look back at your congregation and you say "What is not conformed to what is happening there? Are we acting like they're acting in Heaven? Do we look like they do in Heaven in worship? Are we unified? Are we diverse? Are we just?" So all of these other passions for community development and racial reconciliation, I hope, are driven by that heavenly vision that we gain in worship.


Q. How did you become a Christian?
A. It was in middle school, and it was preceded by a battle with depression that I experienced between third and sixth grade. My parents moved me to a new school and the faithful leaders there explained the Gospel to me. I had grown up going to church but for whatever reason I didn't hear the Gospel. I was eventually put in the hospital with this depression — it had wrecked my health — and the Lord just met me in a very dramatic way there and took away the burdens of my spirit as well as my sin and liberated me from my fears, and that was it. The people at the school taught me the Bible and affirmed my gifts and said they thought I ought to consider going into ministry.


Q. Did you ever consider a career other than ministry?
A. As a teenager I knew I wanted to do some kind of ministry. My grandfather was an aviation pioneer and so I always wanted to fly. In high school I was working to get my pilot's license and thought I had worked a deal with God to be a missionary pilot but He sort of changed my course.


Q. As you know, October marks a big anniversary of the Reformation. Why would you say we should celebrate the Reformation?
A. The Reformation was about restoring the Gospel to the Church, so our celebration should be primarily of the Gospel—the way we are reconciled to Christ alone, learning that in Scripture alone, receiving that by faith alone. The history is fun, but not all of it is positive. I'm a church historian so that floats my boat. But I can sometimes be guilty of focusing more on the figures, the events, the dates, and the scholarship. We have to start with what the reformers put their lives on the line for: the truth of how people are reconciled to God and how their sins are forgiven. It's also true that if we don't focus on the Gospel, if we only focus on Luther and his nailing of the 95 Theses and ability as a preacher, we can tarnish the Reformation because Luther was a racist; he was anti-Semite. So one of the glorious truths of the Reformation is the Gospel is so powerful it can save Luther. It seems to me he was raised up as Paul was as the chief of sinners so that we can look at Luther's life and it can serve as a foil to drive us away from personality and back to the Gospel.


Q. Important: What's your favorite movie of all time?
A. Chariots of Fire. I saw that as a young teenager and it was very formative to see a man who was courageous in his stand for the Lord. I think that was a conscious turning point in my mind that to follow Christ will inevitably involve a cost. And you're not always going to prosper as a Christian; you're not always going to win or be on the popular side. And that deep satisfaction was portrayed in Eric Little — it didn't matter what he lost as long as he knew he was pleasing the Lord.


Q. Where would your dream vacation be and why?
A. Probably Switzerland because I would have my history itch scratched and my wife would love the scenery.


Q. What's encouraging to you about the American Church right now?
A. The millennial generation is very encouraging to me and I think they are the hope for the American Church. The millennials I know within church leadership are more devoted to the church than my generation is as an organization that can be structured to do good — to not only produce accountability, but vibrancy and encouragement. They know their theology and they're committed to their church because for many of them it's that church that put campus ministers on their campus who led them to Christ. They come back into that church and they want to be part of nurturing it and making it better. They care about what's important—social justice, the disenfranchised—and they're volunteering in huge numbers. I find them refreshing in that they're fed up with postmodernism telling them there's no history to anything; they're hungry for historical explanations for things.


Q. In five years time, what kind of changes would you like to see happen at Second?
A. Well, whatever changes I envision are not because I necessarily see anything defective about the congregation. So maybe I want to see enhancements. I want to see the realization of visions that were dreamed by AW Dick, Jeb Russell, Lane Adams, Dick deWitt, and Sandy Willson. Among those the three I see most vividly would be:
1) Dick deWitt is a great biblical, theological redemptive historical theologian, meaning that he sees very clearly how the whole Bible is the revelation of Christ. This is modeled in the way he preaches Christ organically and clearly from every portion of Scripture. So obviously I want to strive to preach that way, but also see that in every corner of our congregation— everybody from the youngest to the oldest — understands that the whole Bible is one story of Jesus.
2) To see us constantly asking how we can respond to Christ in all the ways we see biblical worshippers responding—so even the little things like raising our hands during prayer of adoration or benediction. This is not because I think it's a cool thing to do but people in the Bible prayed lifting their hands and throughout history they've been doing that too. I want to see us live in that kind of dynamism, constantly asking how we can respond to Christ in all the ways biblical worshippers do.
3) I want to see the complexion of our congregation reflect the complexion of Heaven. We do have people of color coming here — it's amazing especially given our history, which is such a wound to us. But, I really want us to dedicate ourselves to prayer and expectation that God would advance the percentage of non-majority culture of members of our church, so that we become a living apologetic of the reconciling power of the Gospel that we're talking about. We tell people they can be reconciled to God through Christ even as sinners and that that reconciling power of the Gospel also destroys the partition between hostility among the races. It's really hard to preach, to live, and evangelize that in a compelling, convincing way if the church is monochromatic. So we need to see that reconciling power of the Gospel manifested objectively in our congregation, and the city needs to see that.


Q. What are some of your favorite memories from your years as a pastor?
A. I would say I have two favorite memories and those are the going away celebrations at Covenant Presbyterian (in St. Louis) and First Presbyterian (in Augusta). I felt like they were the most glorious, most generous gifts that God could give me in that they were little snapshots of Heaven. They were beautiful surprises where God showed me that He had used me. It didn't stroke my pride, it just amazed me that He could use me. And He used me to do things that I didn't intend to do so it had to be all His glory. These events enabled me to see people who had come to Christ, enabled me to see people who at one time had been at each other's throats and were reconciled. There was a family who was broken and divorced and they were reunited. There were children I'd baptized who were getting married in the Lord or there was racial diversity. So these memories are what give me hope when I'm a tad discouraged. I can say "You know, God has used all my bumbling efforts before. He's the one doing it. It's not me." And it's very helpful for me to be able to say that to somebody in the pew who thinks "I don't have a gift, I'm not special enough." I can step in and say with conviction: "I can tell you: God uses the most unlikely people. Take me — a little third grader with clinical depression, just a shriveled person, terrified of everything — if He can use me, He can use you."