Multiplication. This word, which may cause brief panic in the hearts of liberal arts majors, forms the simple but powerful foundation of the NEXUS leadership program. Established in 2003, NEXUS was born out of a shared belief between a few local business leaders and Sandy Willson, the former senior pastor of Second, that Memphis needed an organization that would help instill strong leadership traits into the next generation.
Nearly 15 years later, NEXUS has trained more than 800 emerging leaders in Memphis. One of the key components of this training, which sets it apart from other leadership programs, is what is known as the protege/mentor relationship.
The Protege Way
In NEXUS, a "protege" is someone under the age of 40 who enters the program with specific goals to develop their leadership skills.
"Each year the top three reasons proteges list for their participation in the program are consistent," says Heather Hunt, the director of NEXUS. "They either want personal development, professional development, and/or they want to learn how to get plugged into community."
Those interested in becoming proteges must submit an application and provide references. This year 35 proteges were accepted.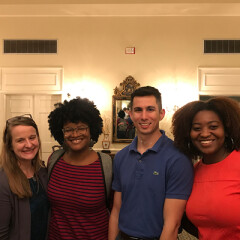 "We want each class to look like the makeup of Memphis so we're strategic in recruiting people of all races, religions, and business sectors," says Heather.
The 2018 class is 51% male and 49% female with an average age of 28; proteges come from every field ranging from non-profit to entrepreneurship to ministry. Although Second is a founding partner of NEXUS and hosts the monthly speaker sessions, a large percentage of participants come from all around the Memphis community. This year 19% of participants are 2PC members.


Joshua Simpson, who graduated last year, credits NEXUS for the job promotion he received in the middle of his program year. His mentor, Kevin Gautreaux, was especially crucial to Joshua's decision to leave his job at International Paper to take a managerial role at Service Master.
"After being at International Paper for 10 years it was difficult to take that risk to become a manager at a new organization," says Joshua. "Being in the program allowed me to talk to other leaders with years of experience who had been through similar transitions before. I was like a sponge, soaking all that information in. I think I texted Kevin almost daily while I was going through that process of pursuing a new job."
Mentor Mentality
When proteges apply for NEXUS, they describe their ideal mentor in terms of profession, experience, and personality. The NEXUS Board then tries to recruit accordingly.
"We seek proven leaders that we want to see duplicated in the next generation," says Heather. "Recruiting mentors is one of our biggest challenges because we're asking for the time and experience of some of the busiest people in Memphis who are making a difference in the city."
Although mentorship is an investment of both time and resources (mentors are required to pay the same $500 tuition as proteges), recruitment is easily facilitated through word of mouth.
"Personal stories are really how we recruit mentors; people share their experiences with their co-workers and then those colleagues want to participate as well," says Heather. "It's really kind of contagious once they see the influence mentors have on young people."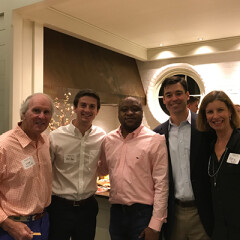 In matching proteges and mentors, the Board tries to arrange a 10-year age gap. The average age of this year's mentors is 52. Mentors meet with their proteges once a month and are encouraged to begin each session by asking two questions: "What are your goals, hopes, and dreams?" and "How can I help you reach those?".
Often proteges request someone in their same vocational field, although in some cases an individual's reason for joining the program may be to learn about a new profession that he's hoping to enter. Other proteges have had (and achieved) goals such as starting a non-profit or writing a book.
"All my proteges so far have had different personalities from mine but what we have had in common was an interest in making Memphis better and exploring those next steps together," says mentor Caroline Kuebler, a 2PC member. "I'm really looking forward to seeing all of my proteges grow as leaders and seeing what they do in Memphis."
Proteges, however, are not the only ones who benefit from the mentor relationship, evidenced by the fact that some mentors participate in the program multiple times.
"When I joined NEXUS I was looking for leadership development opportunities and a way to get more engaged in Memphis," says Caroline, who is serving as a mentor for her third time. "Even now, I still feel like I'm meeting those two goals. NEXUS provides a great way to stay engaged and learn valuable information about what's going on in Memphis."
Out of these relationships have emerged some powerful ideas. With the encouragement and guidance from his mentor Kem Wilson Jr., former protege Kennon Vaughan, who participated in NEXUS in 2004, ultimately founded Downline Ministries, which offers discipleship training in and through the local church. Today, Kennon serves as the founder and lead pastor of Harvest Church and president of Downline.
In addition to their meetings together, mentors and proteges participate in a kickoff retreat, monthly group sessions, and a service project.
Leadership Development and Service
When NEXUS was founded, 10 key principles were determined that every strong leader needs to master, including planning, dreaming, ethical decision making, and communicating. Memphis was recently added as its own topic; this session takes participants through the history of the city and encourages them to consider how they might work to improve it for the future.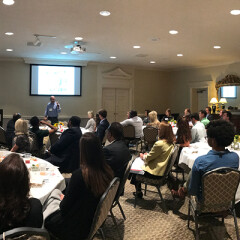 Each month, NEXUS hosts a lecture for mentors and proteges featuring a leader from the city to discuss one of these themes. This year's speaker lineup includes guests such as Jason Wexler, President of Business Operations for the Memphis Grizzlies; Mauricio Calvin, Director of Latino Memphis; and Emily Greer, Chief Administrative Officer of ALSAC/St. Jude Children's Hospital.
"I particularly enjoyed Jason Wexler's talk," says Caroline. "He used the phrase 'Memphis is access and impact,' which has really stuck with me. In other cities it's hard to access the decision makers but in Memphis you're probably just one or two connections away from one. If you lived in San Francisco or New York City you could be one of thousands of people trying to make a difference and you can get kind of lost. But in Memphis you can get involved and really see the impact of your service."
An additional component that was recently added to the NEXUS program is the service project. At the start of each program year, participants determine three different local non-profits in which they want to get involved during their nine months in NEXUS. This year, participants chose STREETS Ministries, Advance Memphis, and Communities in Schools.
For his service project last year, Joshua helped serve meals at Memphis Union Mission, a homeless shelter for men.
"I'd always driven by the building but never really knew what their mission was," says Joshua. "Serving there was very humbling for me as it reminded me that those who are impacted by poverty and homelessness are people too, just like me. After learning more I committed to donating a certain amount each month and I enjoy being able to continue giving back in that way."
In everything from the mentor/protege relationship, to the monthly sessions, to the service project, NEXUS strives to equip participants with practical ways to develop their professional and personal lives.
"I really believe in NEXUS, which I guess is obvious since this is my third year serving as a mentor!" says Caroline. "From so many angles it's just a great value. I'm getting so much for what I'm putting in it. That's just a smart investment, right?"

By: Danielle C. Smith