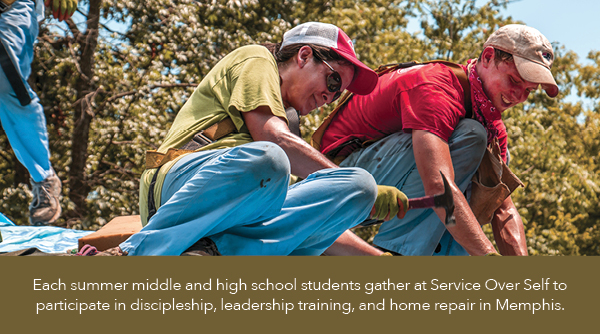 For many of us, the words "summer camp" conjure up images of swimming pools, sports, and snow cones. But at Service Over Self (SOS), camp has a slightly different meaning.
Each summer more than 1,500 middle and high school students (including some of our 2PC middle schoolers this June), come from around the country to participate in a week of discipleship and leadership training and to repair homes in the Binghampton and Orange Mound neighborhoods of Memphis.
The ministry first began in 1986 when members of Christ United Methodist Church joined together to work on a few houses in low-income neighborhoods. It continued to grow as other churches collaborated in the efforts, and in 1999 SOS became its own non-profit organization.
A Team Effort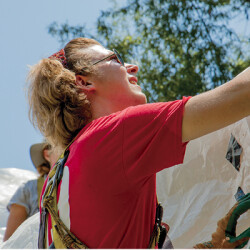 In order for homes to be considered for repair by SOS, homeowners must submit an application. To qualify, the home must be in a neighborhood with either a 38112 or 38114 zip code; the need must be critical (usually a roof replacement); and the homeowner must be current on his taxes. In the fall, when things around the SOS building calm down, the staff conduct assessments of the homes of each applicant to determine which repairs they can tackle.
For the homeowners, repairs are done at no financial cost. However, the SOS staff heavily emphasize the importance of a partnership.
"We realize that we're bringing mostly white, middle-upper class, suburban youth into predominantly African American neighborhoods to repair homes for free," says SOS Executive Director Philip Walkley. "That can be done well but if there's not much thought put into it we believe it can do more harm than good by bolstering the pride of the participants and stripping the pride of the homeowners. We try to really combat that."
Therefore, homeowners are encouraged to contribute in ways that utilize their individual gifts. For some this means helping with the home repair itself or cooking meals for the workers; for others, it means volunteering at the SOS building doing laundry for the campers or serving meals.
Each homeowner is also invited to participate in the Bible study held during lunch every day as well as the SOS picnics hosted each Friday afternoon at parks in Binghampton and Orange Mound.
Developing Leaders
Throughout the summer, SOS campers work on nearly 30 different homes, each of which can take four to seven weeks to complete. Over time, as SOS crews became a familiar sight, different neighbors began asking a similar question.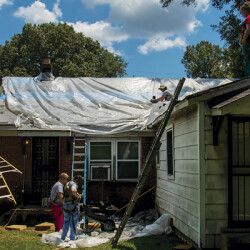 "We heard several times, 'We love and appreciate the work you're doing. How can we get our own kids involved?,'" says Philip. "Our volunteers were coming from outside of Memphis or churches from East Memphis and the suburbs so we started looking for ways we could include youth from the communities where we were working."
SOS began hiring high school students from their partner neighborhoods to work on the summer staff team. They also formed partnerships with urban youth ministries around the city and developed scholarships so that students in low-income neighborhoods could come to the SOS summer camp.
In an effort to include younger students, SOS also began an after-school construction training program for middle schoolers in Binghampton. Through the program, the participants plan, design, and build a signature project for their neighborhood. The first year, the students partnered with the Binghampton Development Corporation (BDC) and built a clubhouse for the Carpenter Art Garden. They created a design, met with architects and artists, presented their plans to the BDC, and then built it. The clubhouse now stands with a plaque in front listing the names of the students responsible for its formation.
"We're starting to see some students that participated in one of our urban youth initiatives now serving on our staff," says Philip. "Many of those students are developing into leaders as they get older and we're hopeful that will continue to happen."
Confronting Misconceptions
When the volunteers initially come in for their week of camp, the SOS staff seeks to prepare campers' hearts with the right attitude for service.
"We really help them understand the dynamics of poverty, what it looks like to experience material poverty, what our role is as believers, and how we do that well," says Philip. "We remind them that we're not the savior trying to come in and fix things."
Often all it takes is an interaction with the person they're serving to change campers' perspectives.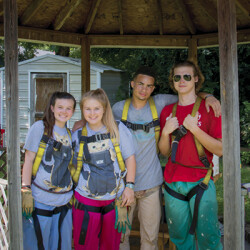 "The majority of homeowners we partner with each year are solid followers of Jesus so we tell them that one way they can contribute is to just share their lives and stories with these teenagers," says Philip. "So we have all these teenagers who they think they're going to preach the Gospel and a lot of times they learn more about what it means to trust Jesus through the story of a homeowner who's really had to trust Him in ways some of these kids haven't experienced."
In addition to other spiritual perspectives, many SOS participants are exposed to a culture and socioeconomic status that differs from their own.
"So many of the families we partner with don't have a lot of money, but with what little they have they work really hard to make their homes beautiful places for their families," says Philip. "There's real richness and beauty in people in these neighborhoods that I think goes unseen because of misconceptions people may have."
By: Danielle C. Smith