Meet Lizzie
Lizzie attended The University of Memphis, where she came to faith in Christ through her involvement with Campus Outreach; in 2010, she became a member of Second. Over time, she began to sense a calling to international missions.
"My calling came in waves — I would hear it and then pursue something else and then hear it again and do something else," says Lizzie. "In college, as I was deciding what to major in, I felt led to something in which I could integrate what I was learning in school with my heart for people to know Jesus. I also worked with World Relief and with international students, so it just felt natural to want to serve the Lord in a country not my own."
When Lizzie attended pre-service training, required for those preparing for long-term missions, in March 2017, she was planning to serve under World Outreach with other 2PC missionaries in India.
Meet Steve
For four and a half years Steve Donley worked on staff at a large, thriving church in San Diego. After serving on a short-term mission trip to Romania, he began to think more carefully about the calling to long-term international missions.
"On many short-term mission trips students come, get connected, and some even profess faith," says Steve. "Then the next year, the same students come and get saved again, which made me realize there wasn't any follow-up. I saw how hungry the students were and it broke my heart because they want to grow in their faith but don't have anyone to walk with them through that season."
At one point, Steve sought to heed advice he had heard while attending a pastors conference: "If you can do something other than pastoral ministry, do it."
"I tried working as a photographer and in the food and beverage industry," says Steve, "but ultimately I felt like I couldn't not be a missionary."
In summer 2016, Steve committed to working with Josiah Ventures (JV) in Latvia. The following March he left for pre-field training in North Carolina.
Lizzie & Steve Meet
A call to long-term international missions can make dating difficult.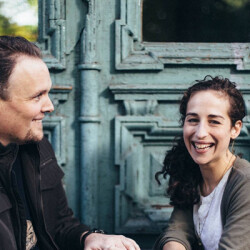 "The fact that Lizzie was at a pre-field training session answered so many questions already," says Steve. "It meant she had already made the decision to not do the American dream thing and to follow God's call to go overseas."
The two began dating, were engaged by the end of the summer, and got married in November 2017. They decided that they would serve together under JV, a ministry that focuses on youth ages 13-26 using a discipleship model similar to that of Campus Outreach. The next step was to determine where.
"In our premarital counseling, [2PC pastor] Dan Burns told us that the Lord may be calling us to India, where I was headed, or to Latvia, where Steve was headed," says Lizzie, "but he also said to keep our hearts open because God might call us somewhere else."
In September 2017 the Donleys scheduled a trip to Latvia so that Lizzie and the JV team could meet each other and she could get a sense for ministry there. On the same trip, they attended a conference in the Czech Republic. There they met with the founder of JV who discussed the possibility of three different countries where the Donleys might serve, locations where the ministry didn't yet have American couples.
"The vision of JV is for nationals to come to faith, be discipled, and then have them be disciplers with the ministry," says Lizzie. "When Steve was first recruited to the Latvia team four years ago there weren't many Latvians on the team; but, when we visited last year, they had 18, which is amazing. So we decided not to serve there — not because we didn't like Latvia, but because that team was already thriving and we thought another location might be more strategic."
Out of the three countries presented to them — Serbia, Estonia, and Romania — they decided on Romania, in part because of Steve's previous experience there and because the small team was in need of additional members.
Christianity, Cluj, Clubs
The JV team in Romania is spread out across three cities; Steve and Lizzie will be living in Cluj, where another couple from the team is already stationed. Because JV has a one-year "newlywed policy," the Donleys will plan to move at the end of this year.
In Romania, the majority of people would say they are Christian, although only an estimated 6-8% have a personal relationship with the Lord.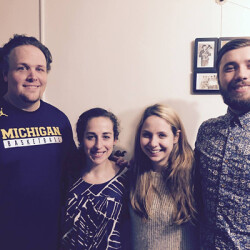 "I think the fact that most people consider themselves Christians will make ministry difficult but will also work to our advantage," says Lizzie. "On one hand it's like the American South, where everyone has heard the story of Jesus being born in a manger and dying on the cross, so there's something to work with. On the other hand, there's also this idea that 'I'm a Christian because my grandma goes to church' so that could present a barrier."
The city of Cluj has about 500,000 people in it, a fifth of whom are college students, making it rife with opportunities to minister to young adults.
While the Donleys will primarily focus on learning Romanian for their first couple of years, they will begin forming relationships with students using sports and English clubs and camps.
"Here in the States you have little league and school teams, so there are lots of opportunities to play sports," says Steve. "In Romania, there aren't organized sports systems for the students so when we offer them the opportunity to participate in a league, they're really excited. Everything we do is to provide context to build relationships with the students. From there, we can invite them out for coffee or a meal and have discussions to find out where they are spiritually."
Ready to Launch
For both Steve and Lizzie, beginning this chapter of life has been a long-time coming.
"Someone who's a chef doesn't want to only read a bunch of recipes and talk about what they're going to cook one day," says Steve. "They want to be in the kitchen cooking. We're anxious to get there and begin what we've been wanting to do for so long."
As with all big changes, along with the excitement comes some apprehension.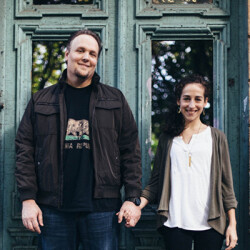 "I've never successfully learned another language, so I'm a little worried about that," says Lizzie. "Also, it'll be a huge change of routine. Every day will be different than it is now, so the unknown is always a little scary."
"For me, it's the work-life balance," says Steve. "Since we're on a team, if somebody needs help, we're going to want to always say yes. But, those first two years, we really need to focus on learning the language so that we can be most effective in the long run."
The pair will spend the month of July in Romania, helping run camps and getting to know the team leader and his wife, who live in a different city from where Steve and Lizzie will serve.
As the Donleys get closer to their departure date, they ask prayer for the remaining 20% of their funds to be raised; for strength and wisdom for their marriage; for a smooth transition onto their new team; and for ease in language acquisition.
By: Danielle C. Smith