Brahms Requiem
All Church Event Music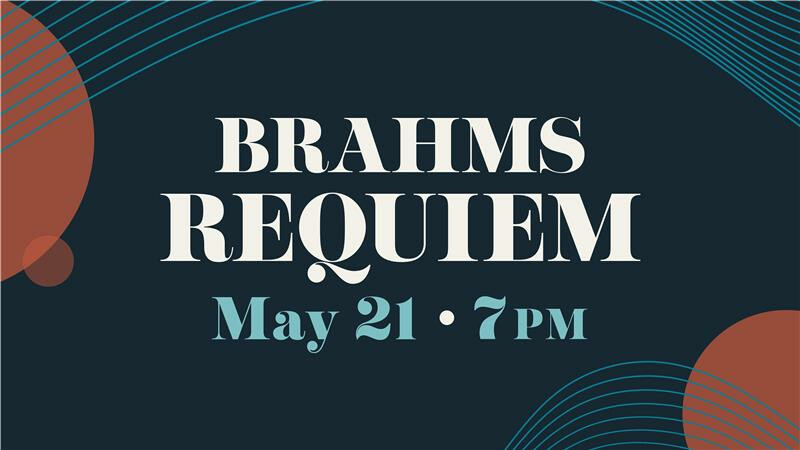 On May 21 at 7:00pm in the Sanctuary, the choir of Second Presbyterian Church will be joined by the choir of Central Presbyterian Church (EPC), St. Louis, as our own Calvin Ellis and CPC's Matt Mazzoni co-direct a performance of Brahms' famous German Requiem.
For those that can't join us in person, be sure to tune in to the livestream.
---
Brahms' Requiem Leads Us to Lament
Our God is honest with us in His Word that we all will experience grief in this life. In Job 14:1, for example, we read, "Man who is born of a woman is few of days and full of trouble." Indeed. Due to the pandemic, societal unrest, acts of injustice, and our personal tribulations, these past few years have been filled with "trouble" and for many of us, deep grief.
However, God in His grace, gives us a pattern to address our grief—lament! Instead of bottling our sorrows or hiding from them, we are able to express them by crying out to God in prayer. As we see in the Psalms and in the life of Jesus, taking time to lament isn't only healing for our broken hearts, it is also glorifying to God.
Laments in Scripture, however, are much more than voicing painful emotions. They are reminders of truth and exercises in faith! While the psalms of lament were written by a variety of psalmists, in various circumstances, they nevertheless share a common pattern. They move from sorrow to joy, from fear to hope, from turning our gaze upon our circumstances towards the One who alone can save us. In other words, as those in Christ, we are called to grieve with hope!
At this performance of Brahms' Requiem on May 21, we have an opportunity to do just that!
While Johannes Brahms had considered composing a requiem for many years, it is believed his final impetus was from the immense grief he endured over the passing of his mother as well as his friend, Robert Schumann. Permeated with Scripture, his Requiem follows the biblical pattern of lament where sorrow gives way to joy and fear gives way to hope.
Join us on May 21 for a time to reflect, grieve, and hope in Christ as we listen to one of the great masterpieces of choral literature.