In 2017, Faith was a student at Rhodes College who had just accepted the opportunity to serve in South Africa over the summer with Campus Outreach. She had plans to become a physical therapist after graduating, but as she prepared for her trip, she began to sense the Lord pressing on her heart to follow Him overseas—long-term.
It was at the 2017 World Missions Conference that Faith began to sense the Spirit's leading. She asked the Lord where and when He would have her go. "You follow me" was the only answer she received.
One Sunday after her trip to South Africa, she shared with the International
Christian Fellowship Sunday School class about her time there. 2PC member Ruth Lomo approached her and told her about the trip she organizes each year to Bidi Bidi (a refugee settlement in Northern Uganda) for servant leadership training. "Would you like to come?" she asked Faith. In August of 2018, she boarded a flight to Uganda. "When I arrived, and especially when I reached Bidi Bidi," Faith shared, "my heart settled, and I felt like it was home."
It was during this two-week trip that she met her husband, Seme. She shares that her "heart jumped" when she first saw him, and in her nervousness, she tried to avoid him the whole trip—which proved futile, because whether they were partnered together or placed in the same small group, she couldn't get away from him. They kept in touch after she returned to the U.S., and not long after, Seme told her that he loved her and wanted to marry her.
Faith returned to Rhodes to finish her final semester of coursework, intent on making her way back to Uganda. She remembered her conversations during her two-week trip with a woman named Esther, who served with the United Nations in Kampala, Uganda's capital. Esther was the same age as Faith, and her life moved Faith to action: "This girl is already doing so much—things I have a heart for but have never taken a step toward doing," she thought. Faith took Esther up on her offer to work alongside her and moved to Kampala in May of 2019.
Her first few months were difficult. Rather than taking time to acclimate to the culture and adjust to the major life change she had just undertaken, she began working the day after she landed. Esther had left for school in the U.S., so Faith worked with her co-workers. Loneliness and self-doubt plagued her. She didn't feel useful, and worse than that, she didn't feel usable at all. "By September, I was ready to go home," she recalls. "I didn't know why I was there. I didn't know if I could do anything. I felt like there were people there who could do what I was doing much better than I could, people who knew the culture and the language."
Seme, serving as a pastor in Bidi Bidi, challenged Faith to stop complaining and remember that God had brought her there. He encouraged her to "seek out the territory" and learn what she could do. Faith stopped working at the office and began to do just that. Before long, she was spending time with students who attended the high school near her home, even going with them to Bible studies held at the Scripture Union (which reminded her of her time with Campus Outreach in college). From there, she began mentoring some of the girls and went from helping with Sunday School at a local church to running it. Add to that her volunteer work as a health counselor at a youth clinic, and Faith went from feeling aimless and overwhelmed to focused and full of purpose.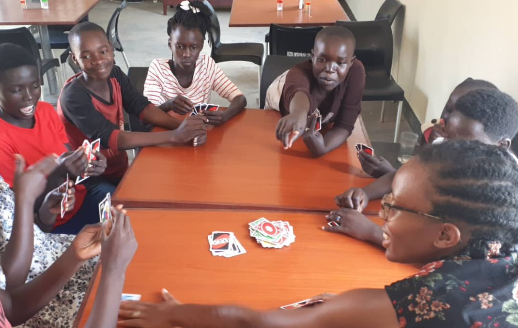 "This confirmed to me that I was there for a reason," she shared. "Plus, I learned not to expect everything to be easy when walking with the Lord. There's always something to be done, but you can't expect things to just come to you. You have to look around and then step out and start doing something."
She continued this work until the pandemic began, and everything shut down. She knew that her time in Uganda would be short, but Covid made it seem even shorter. A bright spot in the midst of this was her engagement to Seme in February of 2020. Five months later, they were married, and Faith moved to Bidi Bidi, that place which had always felt like home.
Bidi Bidi is different in most ways from Kampala. It's rural with dirt roads and no running water; life there is "much slower and not as stressful." Not only that, it's the second largest refugee resettlement in the world, home to 270,000 South Sudanese refugees who have fled the war-torn country. (Seme himself fled Sudan in 2016.)
Seme pastors their church, made up of 100-150 people, mainly Sudanese refugees. Faith serves alongside him as the "first lady" or "mama" of the church. Of her ministry, Faith says, "It's just life. I just live my life here. Ministry comes, but it's a part of my life. People come and visit us any time with needs; we visit people, too."
She sees her home and family (which grew to three when baby Elias was born last May but also includes a ten- and twenty-year-old from Seme's family that live with them) as a central part of her ministry, too. "We want the way we run our family to be an example for our community."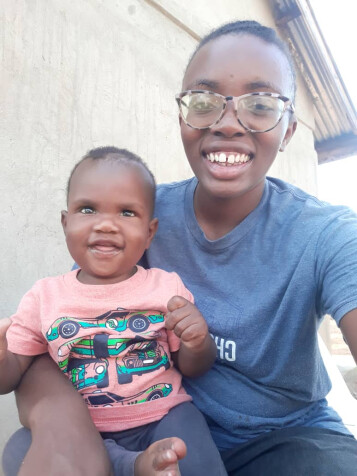 Much of the work they do as spiritual leaders involves casting vision from Scripture for being transformed by God rather than conformed to the ways of the world. "One of the difficult parts of the community is that everyone knows everyone, and no one wants to be the weirdo." But their church is full of young people who are making important decisions that will shape the rest of their lives. Faith and Seme want them to make decisions that honor God so that they can experience the blessings of living aligned with His design and be faithful witnesses to the non-Christians in their midst.
"There's a lack of hope among many of the refugees," Faith shares, which can lead to poor decision-making. Much of their ministry centers around instilling gospel-centered hope in the hearts of those that have left everything behind and are tempted to believe there is nothing good ahead for them.
In addition to South Sudanese refugees, most of whom come from a Christian background, there are some native Ugandans in the area, most of whom are Muslims. Faith sees God at work among this population, too, citing a time when a local Muslim woman was struggling to walk and said to a local Christian, "I heard that when you pray to your God, He answers prayers. Will you pray for my legs?" The woman prayed for her and later learned that her legs were doing better!
Despite such a twisting-and-turning journey, and despite such miraculous evidences of God's Spirit at work, Faith doesn't see her role as a missionary as distinct from the universal calling of all Christians.
"This is where God has directed me to live my life," she shares. "Every believer has the same accountability before God. There's something He has for each of us where we are; we have to search for that thing, see what it is, and not waste the time He's given us here on earth. Whatever that thing is in your mind that you want to go and do somewhere else, start doing it here. You won't go somewhere else and become a missionary; start doing it where you are."